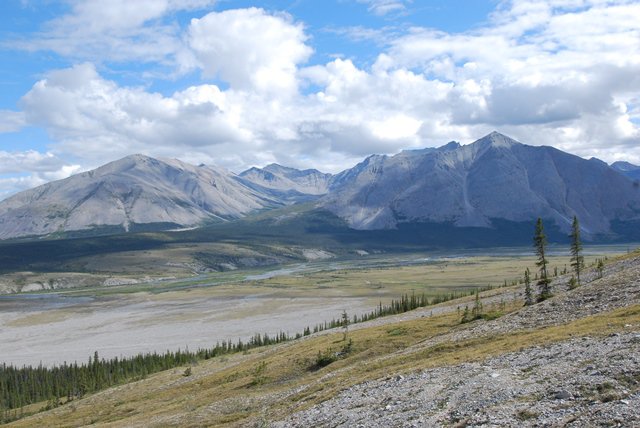 The Wind River in the Peel Watershed. Photo: Jill Pangman/Yukon Conservation Society.
Now that the dust has settled on a years-long court battle which went to the Supreme Court of Canada, the Yukon government and four area First Nations are taking a Final Recommended Plan out for public input.
The Yukon government says they are embarking on the final consultation of the Peel Watershed Regional Land Use Plan in collaboration with the Tr'ondëk Hwëch'in, Vuntut Gwitchin, and Na-Cho Nyäk Dun First Nations, along with the Gwich'in Tribal Council.
YG says community meetings will be held in both Yukon and the Northwest Territories, and an online survey is available until mid-November.
Chris Rider with the Canadian Parks and Wilderness Society Yukon--one of the groups who was part of a lengthy court case involving the Peel--says it's an exciting day.
"It's been seven years coming. So we now have a chance to get these final consultations done right, and we have a chance to finally after so many years say we've done it. We've protected the Peel Watershed." Rider told the RUSH.
He says it's critical people make their voice heard during this final round of consultation.
"We hope people will stand up for the plan, or will provide feedback on changes that they're looking for." Rider said.
"I think we'll be releasing some language about some of our particular recommendations very soon."
Rider says the Regional Land Use Planning Commission's Final Recommended Plan of 80 per cent protection is a compromise everyone can get behind.