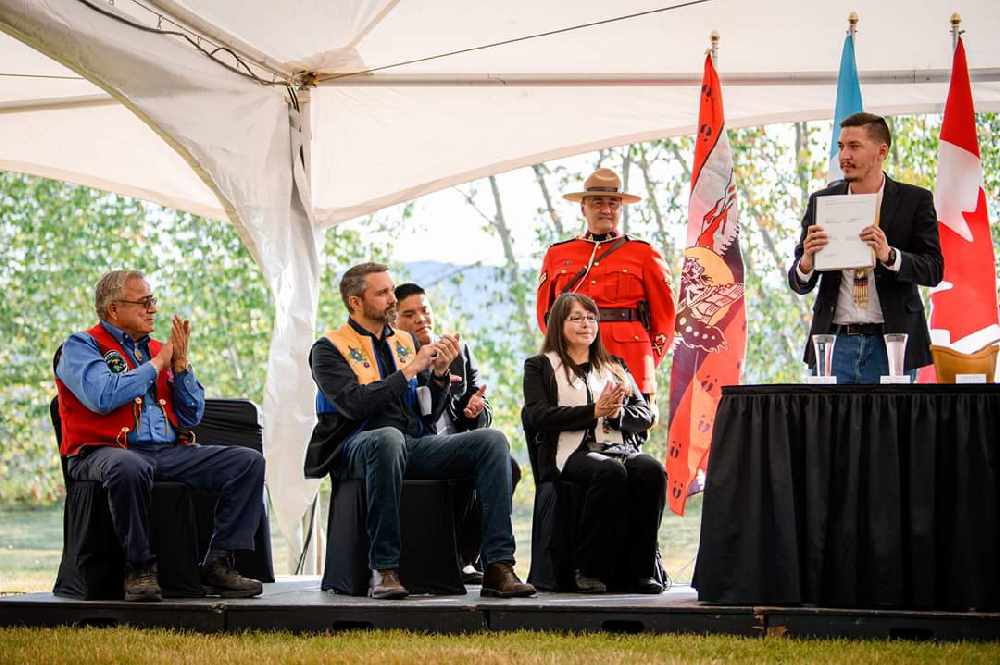 The Peel plan signing ceremony on August 22nd. Vuntut Gwitchin Chief Dana Tizya-Tramm holds up a copy of the plan, as Premier Sandy Silver and other chiefs look on. Photo: Yukon Government/Alistair Maitland.
The Yukon Government says there will be no mineral staking until at least April 1st, 2020 as the Peel Regional Land Use Plan is implemented.
The Yukon Government is extending a mineral staking ban in the Peel watershed.
The extension announced late Thursday afternoon goes until April 1st. The ban was set to expire January 1st.
YG says the move is to give governments time to formalize the higher standards of the Peel Watershed Regional Land Use Plan, and to give the chance for the industry to adapt to the plan.
A release says during the three-month extension YG and First Nations will begin implementing the plan, preparing information to help miners understand the new requirements for mineral exploration, and work toward removing the plan's prescribed limitation on exploration by April 1st.
The Peel plan contains 16 Land Management Units, which protects 83 percent of the 67-thousand square kilometre region. After 16 years of development, the plan was finalized in August.