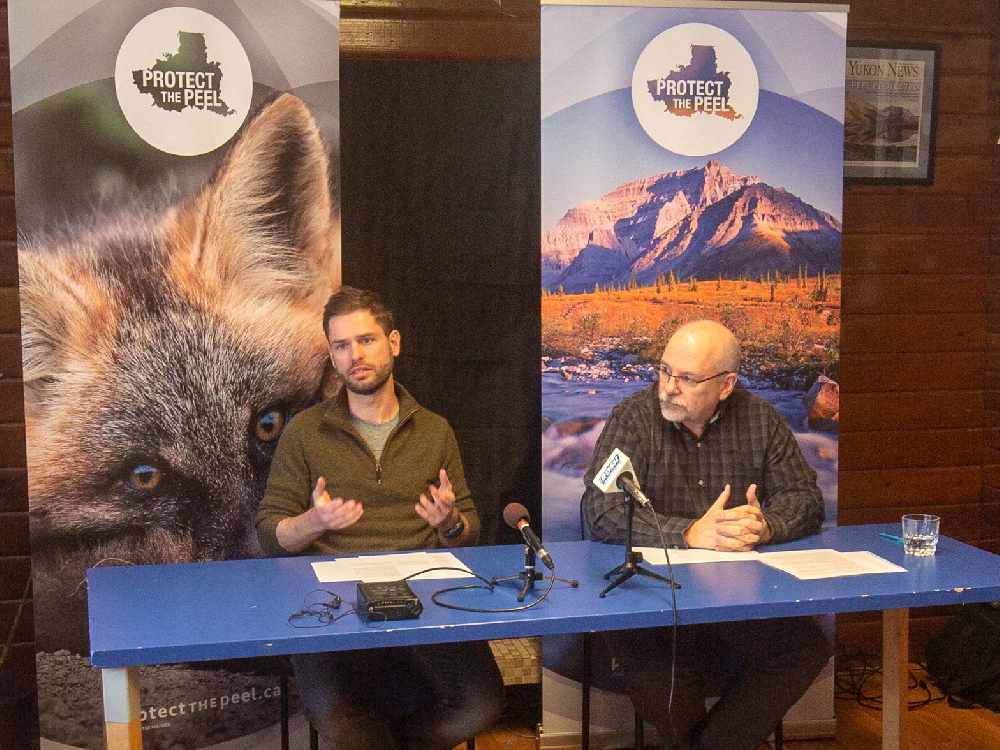 Chris Rider with C-PAWS Yukon and Mike Walton with the Yukon Conservation Society meet with the media Tuesday afternoon. Photo: Malkom Boothroyd/CPAWS.
The report on two months of final consultation on the Peel Watershed Final Recommended Plan is getting approval from environmental groups.
A consultants report on final consultation on the Peel Watershed Land Use Planning Commission's Final Recommended Plan is being released.
The Stantec report summarizes the consultation done last fall, with just over 3,000 respondents providing feedback in person, through letters, and by completing a questionnaire.
Canadian Parks and Wilderness Society Yukon Executive Director Chris Rider says 96.4 per cent of the respondents wanted at least the final recommended plan put in place, with 64.5 per cent wanting stronger protection.
"This is not surprising. It is consistent with what we have heard is every single stage of the consultations since this process began, and that is a 15 year process." Rider told reporters.
The final plan calls for 55 per cent permanent protection, with 25 per cent interim protection, however, C-PAWS and the Yukon Conservation Society are calling for 80 per cent permanent protection.
YCS Executive Director Mike Walton says increased protection is what the majority of respondents want.
"With public support for protection confirmed, C-PAWS and YCS think that now is the time to permanently protect 80 per cent of the Peel Watershed." Walton said.
"We trust the judgement of Yukoners, and think the decision-makers should too,"
The Senior Liaison Committee made up of Yukon Government, and First Nations will now do government to government consultations before adoption.
Tim Gerberding, who represents the Tr'ondëk Hwëch'in and Na-Cho Nyak Dun First Nations on the committee says there will now be intergovernmental discussions to come up with a final Peel plan.
He says it will be up to YG and First Nations to determine if an increase in permanent protection as suggested by respondents in the Stantec report can be part of the final plan.
"I don't have any positional comments about what was said, but I think the purpose of the document is not really to carve out positions, but rather to accurately reflect public comments, and I think the document does a pretty good job of that."
Gerberding says while the MOU signed between First Nations and YG last August setting up the committee and final process planned to wrap up by this summer, who knows how long the sides will take to come up with a final plan.
In December of 2017, the Supreme Court of Canada ordered the Yukon government to go back and conduct final consultation on the land use planning commission's Final Recommended Plan.