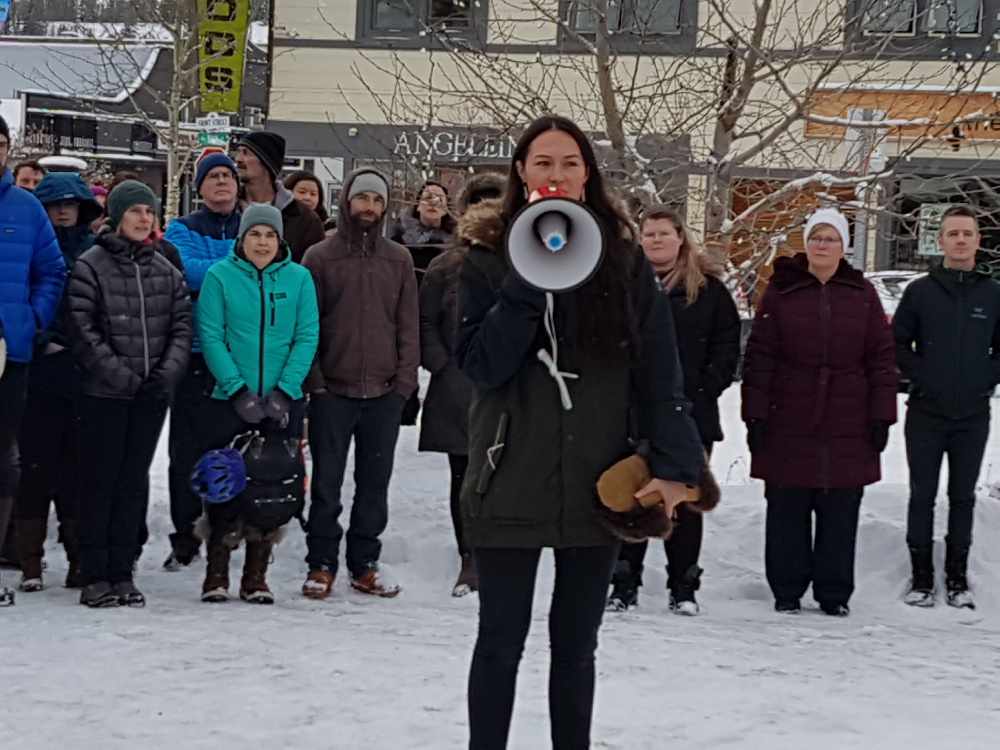 Rally organizer Angela Code speaking to the gathered crowd in Whitehorse (Tim Kucharuk/CKRW)
A large crowd was assembled at the healing totem to stand in solidarity with the family of Colten Boushie.
The Yukon Regional Chief of the Assembly of First Nations says the Colten Boushie verdict is not just an Indigenous issue, but a Canadian one.
Speaking to reporters at a noon hour 'Justice for Colten' rally in Whitehorse, Kluane Adamek says the ruling is not acceptable and is again an example of the many injustices Indigenous people have faced over the years.
"And so you're seeing over 150 years of history coming out in that verdict and in a time where we're talking about reconciliation, I think this becomes a question for Canada to really dig deep and say what do we want our country to be?"
Organizer Angela Code told the crowd the verdict means the progress First Nations have made has come to a halt, and she's lost faith in humanity and Canadian society.
"For years, it seems like things were getting better and I do believe that they are, slowly, but after that verdict last week it just felt like a big slap in the face."
The rally follows an acquittal of Gerald Stanley by a jury in the death of Boushie on a Saskatchewan farm.
'There's no room for hate.' Many at #Whitehorse rally speak of the need to educate Canadians about Indigenous issues. Call the Boushie case 'a step back.' 'It's not right.' #JusticeForColton pic.twitter.com/dk45ut3w0I

— Tim Kucharuk (@TimKucharuk) February 13, 2018