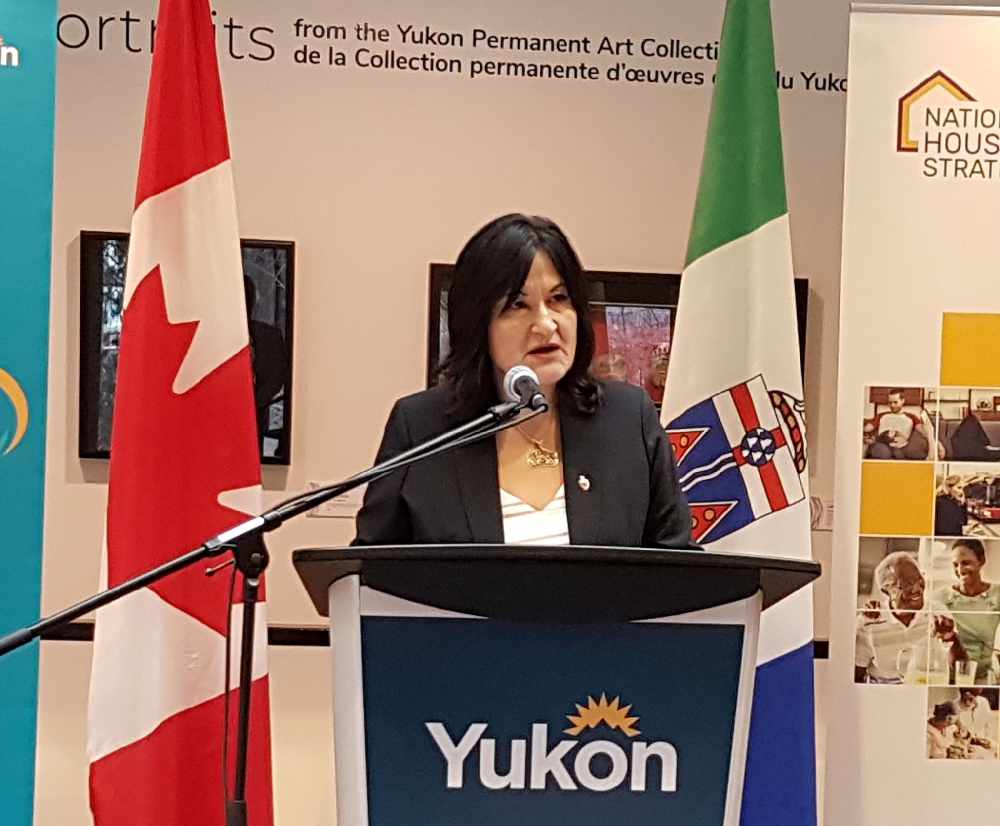 Housing Minister Pauline Frost at a recent National Housing Strategy funding announcement. Photo: Tim Kuchark/CKRW file.
The Yukon Party says reducing the amount of money available for homeownership programs dashes the dream of owning a home for many Yukoners.
The Opposition Yukon Party is chastising the Yukon government over their decision to scale back housing programs in the territory.
Housing critic Geraldine Van Bibber brought up the cuts in Tuesday's question period, noting the Liberals are planning to cut the Down Payment Assistance Loan Program by $400,000, the First Time Mortgage Loan Program by $1.5 million, and the Owner Build Loan Program by $500,000 in this year's budget.
Housing Minister Pauline Frost says there are some changes, but there's other housing work going on.
"I can say we are taking initiatives to increase affordable housing, (and) support housing options for Yukoners in all stages (of) their lives." Frost told the house.
Van Bibber tells the RUSH that's not good enough.
"This is for Yukoners. (These) programs are already in place, and between three programs they are cutting almost $2.5 million dollars."
She adds the already tight market is crushing the hope of homeownership all on its own.
The programs were set up by previous Yukon Party governments to get people into homeownership.
The initiatives undertaken by the Liberal government have focused on affordable housing, such as the Housing Initiatives Fund, housing unit conversions, individual projects, and a recent 10-year $60 million agreement with Ottawa and the National Housing Strategy.