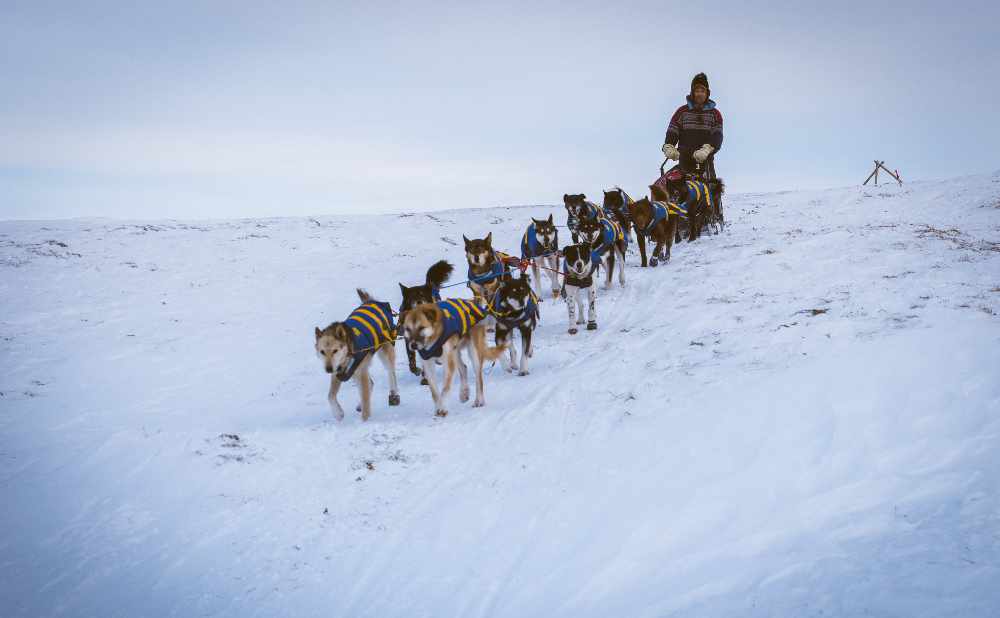 Alaska's Hugh Neff drives his team over Eagle Summit during last year's race. Neff will be seeking a third title when the Yukon Quest begins February 3rd. Photo: Julien Schroder/Yukon Quest.
The 35th 1,000 mile dog sled race begins in Fairbanks this year on February 3rd, and organizers are gearing up for the start.
There's one month to go until the 35th Yukon Quest 1,000 mile dog sled race begins in Fairbanks.
Yukon Executive Director Natalie Haltrich says after a review, there's no major rule changes this year, and the weather has smartened up recently.
"We had a nice cold spell which is great. There's more snow on the Fairbanks side of the border than this side of the border, but (we're) still a month out, so I tend not to worry much about that."
"We have a great roster of mushers, and dedicated personnel. So I'm feeling really good about the finish line in Whitehorse, and the whole race."
There's 27 mushers registered so far for the race, but Haltrich says those numbers could change, as a few teams have to complete qualifying races later this month, and the final registration deadline is Friday.
"Couple of teams that need to do their qualifiers, and who knows what's ahead for them."
"At the same time, it's a great roster for us, and we're certainly looking forward to the diversity within that mix. A great number of females and males, rookies and veterans, some fun new names to think about as well."
The purse this year is $125,000, with the top 15 taking home prize money.