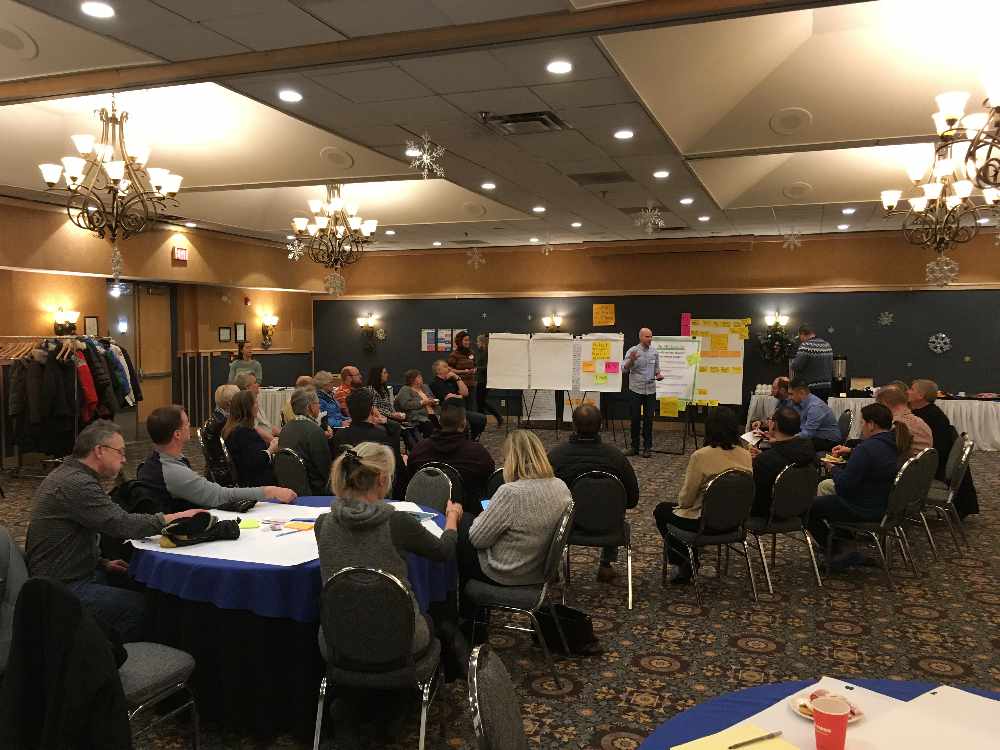 A public engagement meeting held in Whitehorse earlier this year discussing changes to Designated Material Surcharges. Photo: Oshea Jephson/CKRW
The Yukon Government says the new surcharges will help finance recycling programs and eliminate tipping fees at the landfill.
New point of purchase surcharges for electronics, electrical products, and tires in Yukon take effect October 1st.
The Yukon government says that's when changes to Designated Materials Regulations come into force.
The biggest change from surcharges proposed in 2014 and last year is to semi-truck tires, which go from $50.00 to $9.00.
The change is in response to concern expressed by tire shops and the trucking industry, who say the surcharge would add hundreds of dollars to the price of tires.
Charges for computers, laptops, cell phones, and vacuums fall, while big-screen TV's and microwaves rise.
The government says the surcharges will go toward recycling programs in the territory, and tipping fees at the landfill will be eliminated.
Here are how the fees compare to proposed surcharges earlier this year;
| Product/Category | 2017* Proposed Surcharge | Oct. 2018 New Surcharge |
| --- | --- | --- |
| Car Tire | $7.00 | $7.00 |
| Semi-truck tire | $50.00 | $9.00 |
| Computer | $15.00 | $2.80 |
| Laptop | $10.00 | $2.00 |
| Big-screen TV | $30.00 | $56.00 |
| Cell phone | $2.00 | $0.14 |
| Microwave | $8.00 | $10.94 |
| Vacuum | $5.00 | $4.38 |