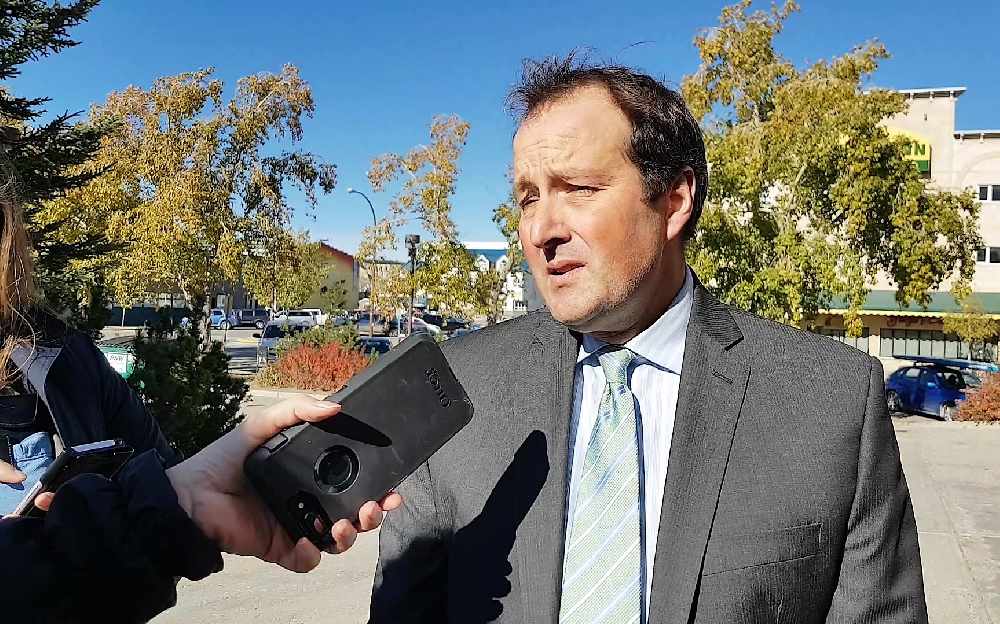 Crown prosecutor Ludovic Gouaillier speaks with reporters outside the courthouse in Whitehorse Friday afternoon. Photo: Tim Kucharuk/CKRW.
73-year-old Leon Nepper had charges of attempted murder and aggravated assault added to two previous charges in connection with a mail bomb which exploded in Port Alice, BC.
There are two new more serious charges against a Whitehorse man accused of mailing a bomb to his brother on Vancouver Island.
73-year-old Leon Nepper appeared in a Whitehorse courtroom Friday afternoon, and is now facing one charge each of attempted murder and aggravated assault, as well as previous charges of possessing and sending an explosive device.
Crown prosecutor Ludovic Gouaillier says Nepper will face all his charges in Yukon.
"There is a provision in the criminal code that specifies when an offence is committed by use of mail, it can be prosecuted wherever the mail was transmitted on its way."
"The conversation was about how to charge and where to charge, so that decision has now been made."
Nepper's case was put over until October 5th.
The judge put in place a no contact order applying to Nepper's brother Roger, or his brother's wife Shirley Bowick.
It's alleged Roger Nepper opened a package in his Port Alice home September 11th, which exploded sending Roger to hospital with serious but non-life threatening injuries.