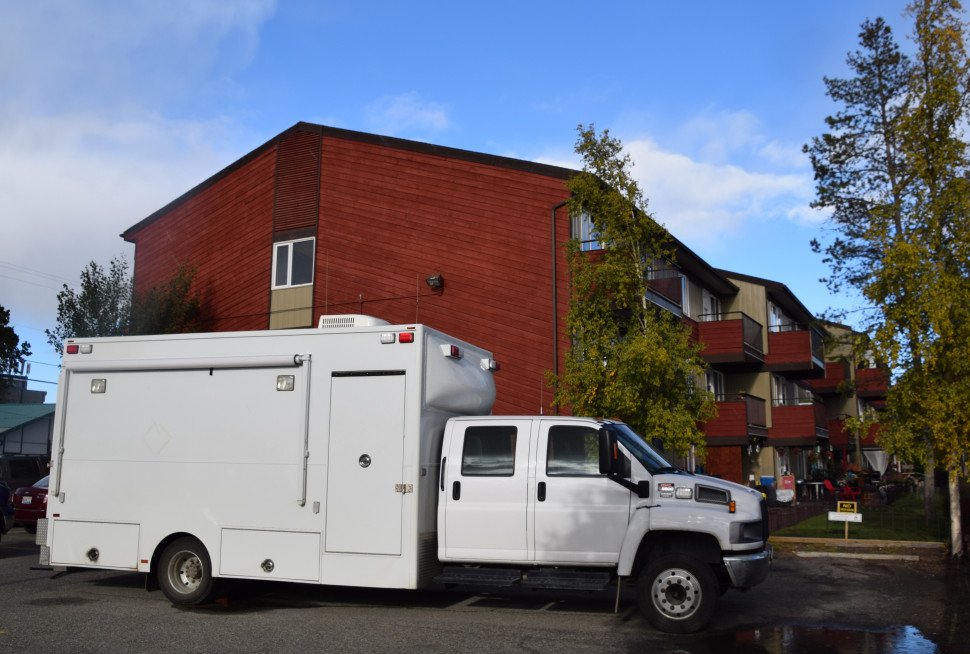 The RCMP's Explosive Disposal Unit Vehicle parked outside a Lambert Street apartment building in Whitehorse where officers conducted a search related to the investigation. Photo: Yukon RCMP.
The death of suspect Leon Nepper while in custody brings up a lot of questions, but also winds down a potentially lengthy legal process.
There is still many questions surrounding the Port Alice, BC mail bombing case even though the Yukon Coroner's Service says the suspect died in Whitehorse Hospital on the weekend.
We may never know what motivated 73-year-old Leon Nepper to allegedly mail a bomb to his brother Roger on Vancouver Island.
There's also the question of how the package made it through the system.
Canada Post tells the RUSH in an email statement from Ottawa, they take the safety, security, and integrity of the postal service very seriously.
The corporation's Phil Legault says while Canada Post will not get into the exact indicators they look for, employees are reminded to be vigilant and report any suspicious packages.
Legault says team leaders review safety procedures and job aids with employees on how to identify and treat such a package.
Meantime, the crown prosecutor in the case expects the charges to be withdrawn before a next scheduled court appearance in Whitehorse.
Ludovic Gouaillier says prosecutors are waiting for official confirmation of Nepper's death, and expects the charges to be discontinued before a next court appearance which was set for October 5th.
Roger Nepper is recovering from serious injuries, as he reportedly lost at least one finger when he opened a package in his home September 11th.
The Coroner's Service says Leon Nepper went into medical distress at the Whitehorse Correctional Centre on Sunday, and was taken to hospital, where he later died.
Coroner Heather Jones says an autopsy on Nepper will take place in Vancouver this week.