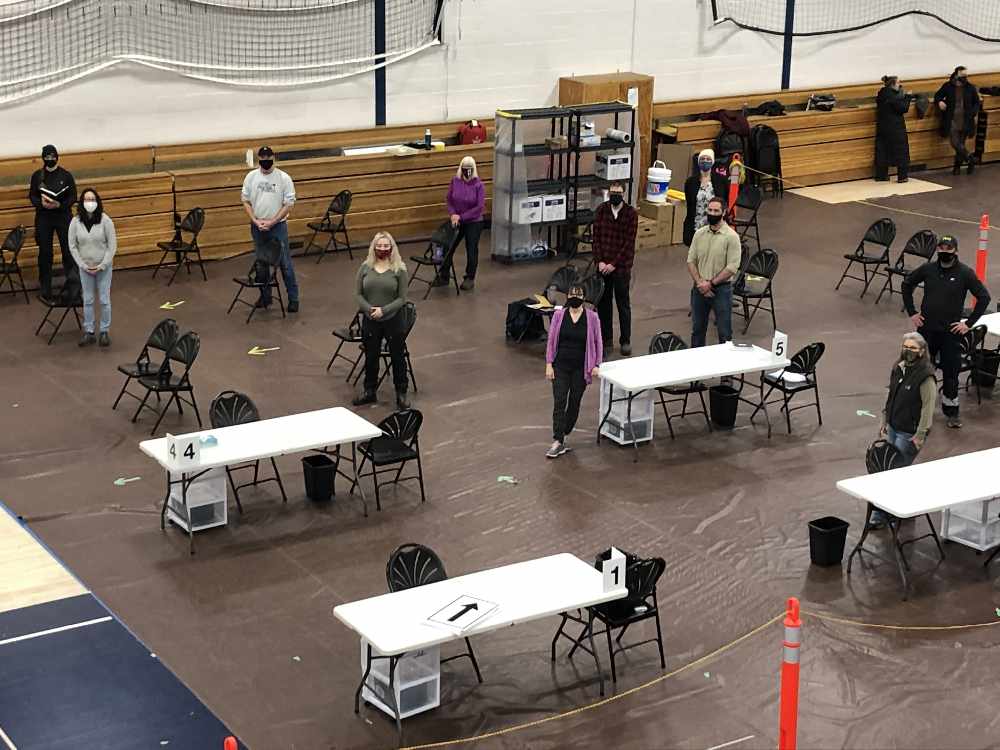 The Government of Yukon's mobile vaccine deployment teams held a dry-run of their mobile clinic at Vanier Catholic Secondary School. Photo: Luke McGrath/CKRW File
Yukoners in rural communities will receive their first shots of the Moderna COVID-19 vaccine over the next two weeks.
Yukon's COVID-19 vaccine rollout is continuing this week, and the vaccine deployment teams are beginning to set up their mobile clinics in some of the territory's rural communities.
John Coyne is leading the vaccine deployment planning team. He says one of the most critical parts of planning the vaccine deployment was finding central locations in each community.
In the communities, we wanted to find a strategy that allowed us to go in and obtain the highest number of vaccines as early as possible to achieve overall herd immunity. The best way to do that without impacting regular operations in regional health centres was to bring the clinic to the community."
Residents of Yukon communities will begin receiving their first shots of the Moderna vaccine over the next two weeks.
Coyne says it's important that the Yukon Government secured doses of the Moderna vaccine, which presents fewer logistical challenges.
"Yukon is in a really good position to roll out this vaccine. The Moderna vaccine is an excellent vaccine for us to manage the logistics."
Residents of Whitehorse, Watson Lake, Beaver Creek, and Old Crow can now book their vaccine appointments online or on the phone.
Watson Lake is the first community to open its mobile vaccine clinic. Watson Lake residents will receive their shots on January 18th and 19th.
Whitehorse's clinic opens Tuesday, January 19th for Yukoners aged 70 and older.