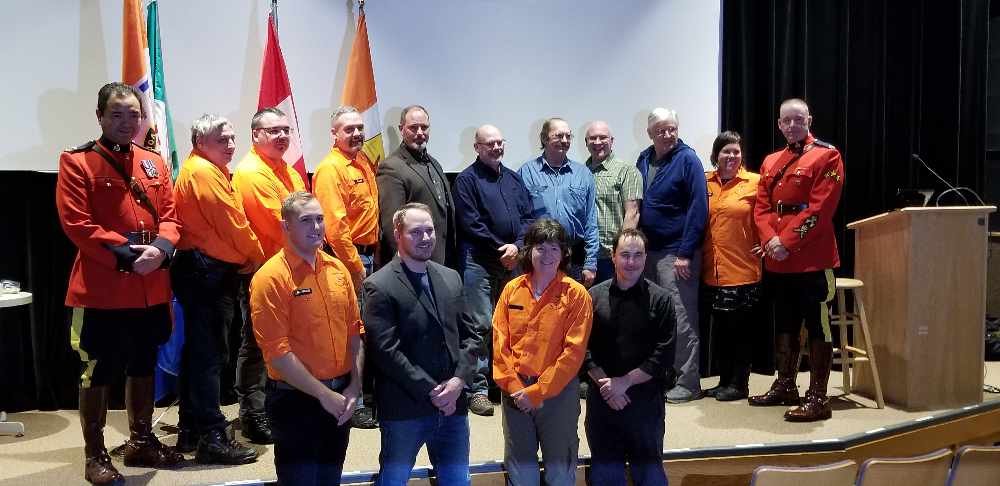 Members of Yukon Search and Rescue stand with RCMP at the inaugural ceremony in Whitehorse. Photo by John Kennedy / CKRW
Yukon's search and rescue volunteers were presented with award certificates and patches marking their service in the territory.
Yukon Search and Rescue is honouring volunteers with the 1st ever long-service awards in Whitehorse.
Yukon Search and Rescue Search Manager Derrick Law was presented with special recognition from the Search and Rescue Volunteer Association of Canada for over 25 years of service in Yukon during Thursday night's inaugural ceremony.
Law says being apart of SAR is a fantastic experience, with some searches being more logistics based than others.
"Other times, you're flying around in a helicopter up in the mountains and it's just stunning and exciting. You know, every time you come across a bear unexpectedly, that gets a little exciting as well."
Yukon SAR President Jason Hudson says honouring the people who give up time from their families so others may live is always worth it.
Hudson says the ceremony went well.
"We had a few laughs, the point is to acknowledge our membership and have some fun doing it."