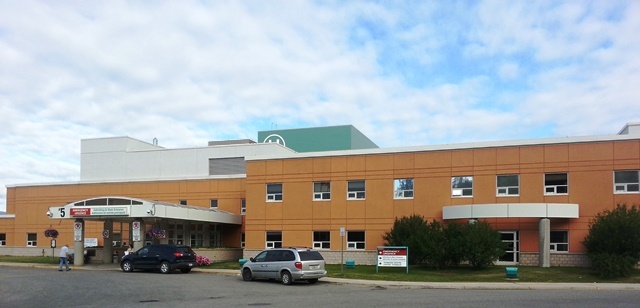 The Whitehorse General Hospital. The Yukon government says it is not looking to increase medical travel expenses. Photo: Tim Kucharuk/CKRW file.
The opposition says with inflation and the carbon tax the rates should be increased, while the government says it's looking to bring services to patients.
The Yukon Party is calling on the Liberal government to increase the reimbursement rate for medical travel within the territory.
During Tuesday's question period, Opposition Health Critic Patti McLeod told the house the medical reimbursement rate for patients who must drive to Whitehorse is 30 cents per kilometre, however the government employee rate when travelling for work is 60.5 cents.
She says the costs for travel are only going up.
"With inflation, and with the government working to implement a carbon tax--which will increase the cost of travel--Yukoners will soon find it most unaffordable to get that medical treatment that people in Whitehorse receive." said McLeod.
Health Minister Pauline Frost says the government is looking at a more collaborative health care model, and are looking at offering more services in the communities, so increases are not on their radar.
McLeod also asked if the government would adjust the reimbursement rates for medical travel outside the territory, however, Frost responded those are some of the highest in the country, and the department is expanding what services are brought to the territory in order to reduce outside travel.