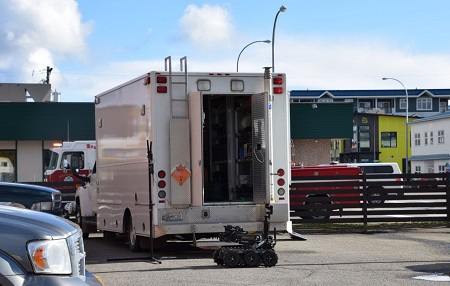 The RCMP bomb squad was called out to a Lambert Street apartment building late Thursday afternoon as part of the investigation. Photo: RCMP.
A 73-year-old man is in custody and faces charges after allegedly sending a package containing a bomb to Port Alice, BC.
A Whitehorse man accused of sending a package to his brother on Vancouver Island, which exploded when it opened has had his case put over until later this week.
Wearing a grey sweatshirt, a frail-looking 73-year-old Leon Nepper appeared in territorial court Monday afternoon, with his next appearance set for Thursday.
Nepper will remain in custody until then.
Crown lawyer Ludovic Gouaillier told Judge Karen Ruddy, the matter is complex, as there's a trans-jurisdictional investigation ongoing, and additional charges could be forthcoming.
Nepper is facing two charges in connection with last week's bombing where Nepper's brother open the package in his Port Alice home, when it exploded causing serious injuries.
(This story is now updated. A previous version is below.)
___________________
Yukon RCMP have made an arrest in Whitehorse in connection with a mail bombing in Port Alice, BC.
Police in BC say a 73-year-old man is in custody, and court records identify the accused as Leon Nepper.
He's facing two charges including sending and having under care an explosive substance identified as an improvised explosive device.
Nepper appeared in a Whitehorse courtroom Friday afternoon, and was remanded into custody until his next court appearance on Monday.
The apartment building where Nepper lived on Lambert Street was evacuated as police investigated into the evening and overnight hours on Thursday.
A Port Alice man, believed to be Nepper's brother, opened a package on Tuesday which exploded sending him to hospital with serious but non-life threatening injuries.
Police say the investigation continues.