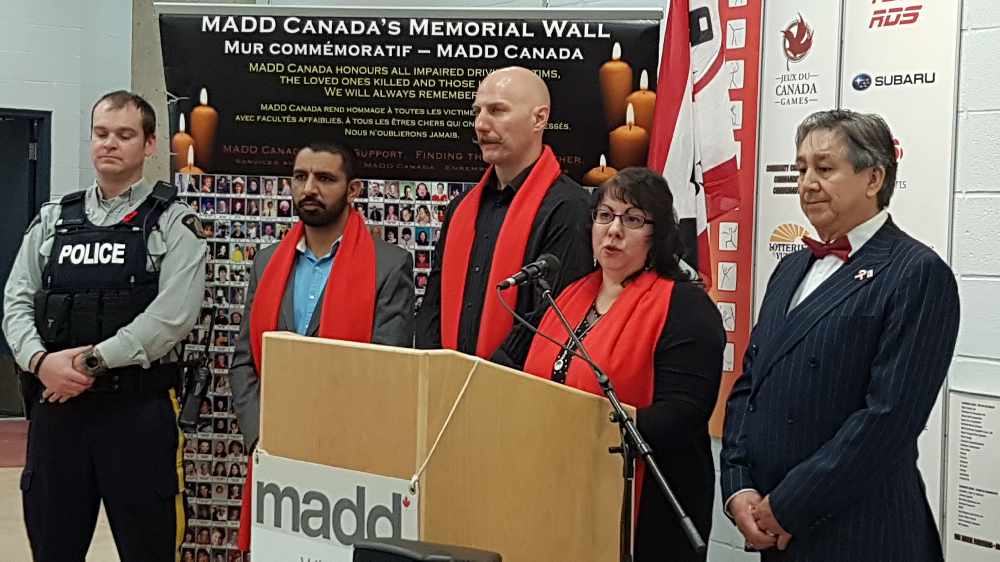 A united front: MADD Whitehorse president Jacquelyn Van Marck (at podium) is joined by other members of MADD and RCMP at Thursday's kickoff. Photo: Tim Kucharuk/CKRW.
The group was joined by first responders and politicians at the launch of Project Red Ribbon in Whitehorse on Thursday to discourage Yukoners from driving while impaired.
Mothers Against Drunk Driving Whitehorse is launching its Project Red Ribbon campaign for the holiday season.
Thursday's ceremony at the Canada Games Centre had Yukon Government, city officials, RCMP and paramedics urging Yukoners to tie a red ribbon on their vehicle or elsewhere to remind people about the dangers and effects of impaired driving.
MADD Whitehorse President Jacquelyn Van Marck says impaired driving is a problem in Yukon.
"We have the most impaired drivers on the roads," Van Marck told the RUSH. "We really need for our (statistics) to be improved. We really need for people to be safe, and to have a wonderful and festive season not only through Christmas but throughout the year."
(Listen: MADD Whitehorse Project Red Ribbon campaign launch.)
RCMP Constable Louis Allain with Traffic Services says police will be out with increased check stops over the holiday season.
"I don't know why people are still making that decision," Allain said. "There's nothing advantages to (driving) home. To be honest, three hours at the detachment to do breath samples, or 10 minutes to wait for a cab. I'd wait for the cab."
This is the 32nd year for the project nationwide.
#MADD #Whitehorse about to launch their Project Red Ribbon campaign. The program, which features the tying a red ribbon to vehicles, key chains, purses, briefcases and backpacks to discourage drinking and driving. pic.twitter.com/3GWYWNoXcM

— Tim Kucharuk (@TimKucharuk) November 7, 2019