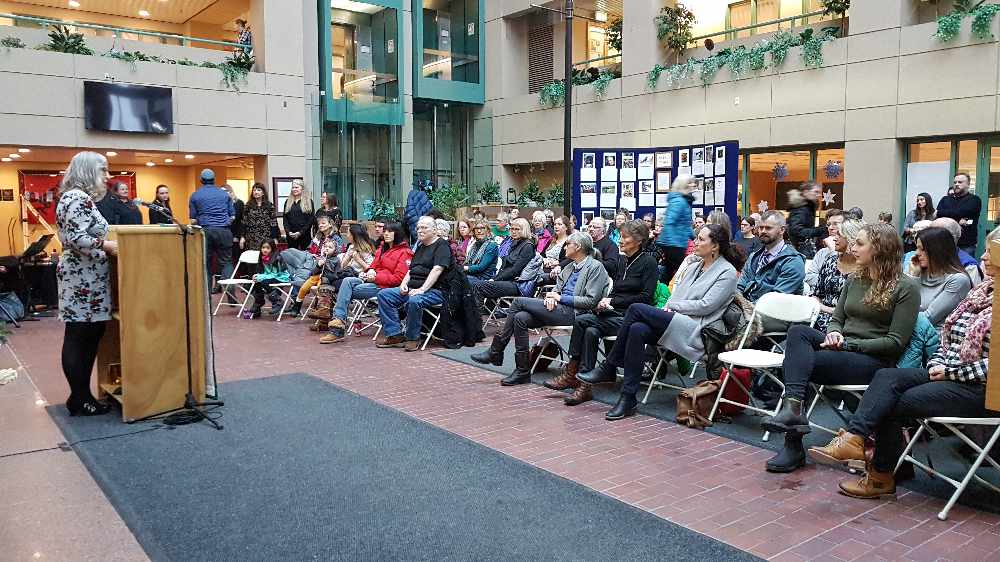 MC Elaine Schiman addresses the ceremony Thursday afternoon. Photo: Tim Kucharuk/CKRW.
Hospice Yukon has the 29th annual event where those experiencing the loss of a loved one can place a tag of remembrance on special trees around Whitehorse.
Yukoners who are missing a loved one during the holiday season can express their grief through Hospice Yukon's 29th annual Lights of Life event.
A ceremony over the noon hour Thursday helped mark the beginning of the chance for people to place remembrance tags on trees at the Elijah Smith building, and at other locations around Whitehorse over the next week.
The ceremony featuring singing, speeches and poems attracted over 100 Yukoners.
Grief Therapist Gisela Sartori expanded on this year's theme of The Little Things during her address to those gathered.
"They are the signposts on your past," Sartori said. "Let them stay for as long or as little as they need to be with you. And recognize they are your guides to the deeper evanidus that grief can offer."
After the ceremony, Deb Higgins with Hospice Yukon told The RUSH we emphasis happiness and joy during the holidays when in reality, we are missing the people we share these times with.
"It's fitting to create a space, a time and a place to honour the grief that many people carry at this time of year," Higgins said. "It actually can in a way create a sense of balance for people to shed a tear and to honour those special relationships."
(Listen: the 2019 Lights of Life ceremony.)
Yukoners can place remembrance tags on five trees at the Elijah Smith Building and at various locations around town until Thursday. The trees in the foyer of the Elijah Smith Building include smaller ones to remember children and pets.
The tree at the Hospice Yukon office will be available until next Friday.
The ceremony featured speeches, poems, and singing from the Persephone Singers and Whitehorse Chamber Choir. pic.twitter.com/nXamSErJfM

— Tim Kucharuk (@TimKucharuk) December 12, 2019