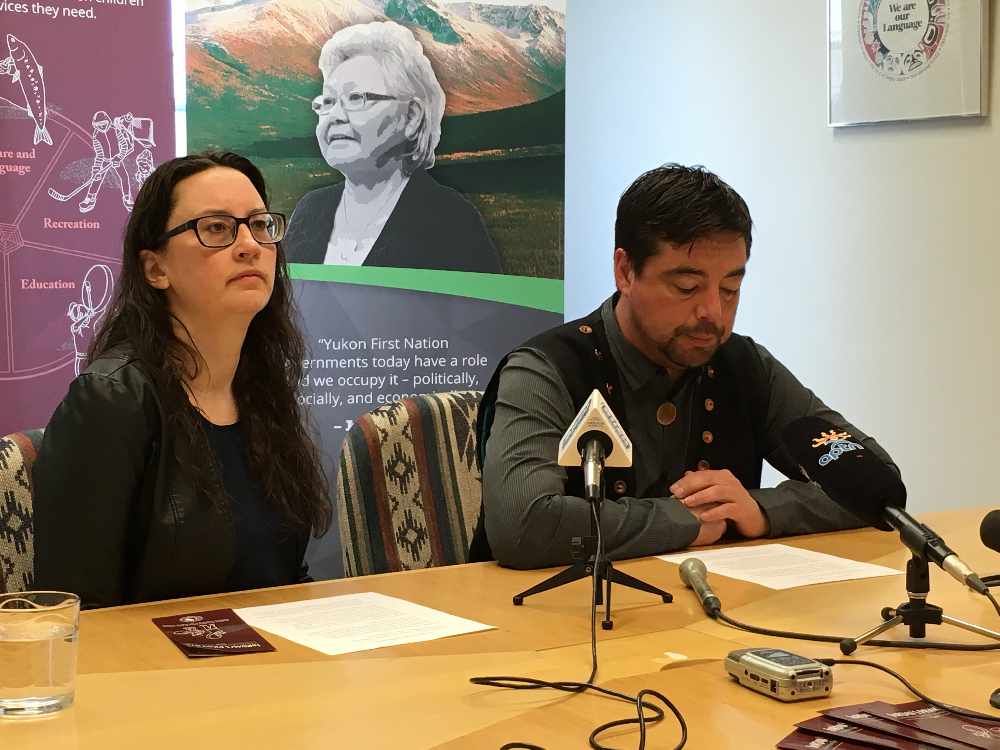 Council of Yukon First Nations Shadelle Chambers and Grand Chief peter Johnston speaking in Whitehorse. (Oshea Jephson/CKRW)
The Council of Yukon First Nations is taking on outreach and will help facilitate access to federal funding for First nations youth under 19 with educational and health needs.
The Council of Yukon First Nations says Jordan's Principle will now be more accessible to First Nations in the territory.
The funding is in memory of a Manitoba youth with complex medical needs who died after spending more than two years in hospital as the province and federal government argued over who should pay for his at-home care.
During the announcement in Whitehorse Thursday morning, Executive Director Shadelle Chambers says the federal program didn't see much uptake until CYFN started its outreach work.
"The cases that were approved were only two in October and that was, you know, while the federal government really launched the program and you could see the uptake wasn't that great and so CYFN really wants to ensure the communities and the folks, any service provider, really knows that this is available."
Chambers says CYFNN has been working with communities to improve access to the funding for First Nations youth 19 and under with medical and educational, and care needs.
"On a case by case basis, CYFN will work with Indigenous Services Canada to help float or cash flow some of those interim pieces and CYFN can directly invoice and wait the normal times to receive those repayments and so the family doesn't have to have another barrier or delay in service."
There have now been 75 cases of youth accessing Jordan's Principle within Yukon, which is attached to a national $382 million dollar fund.