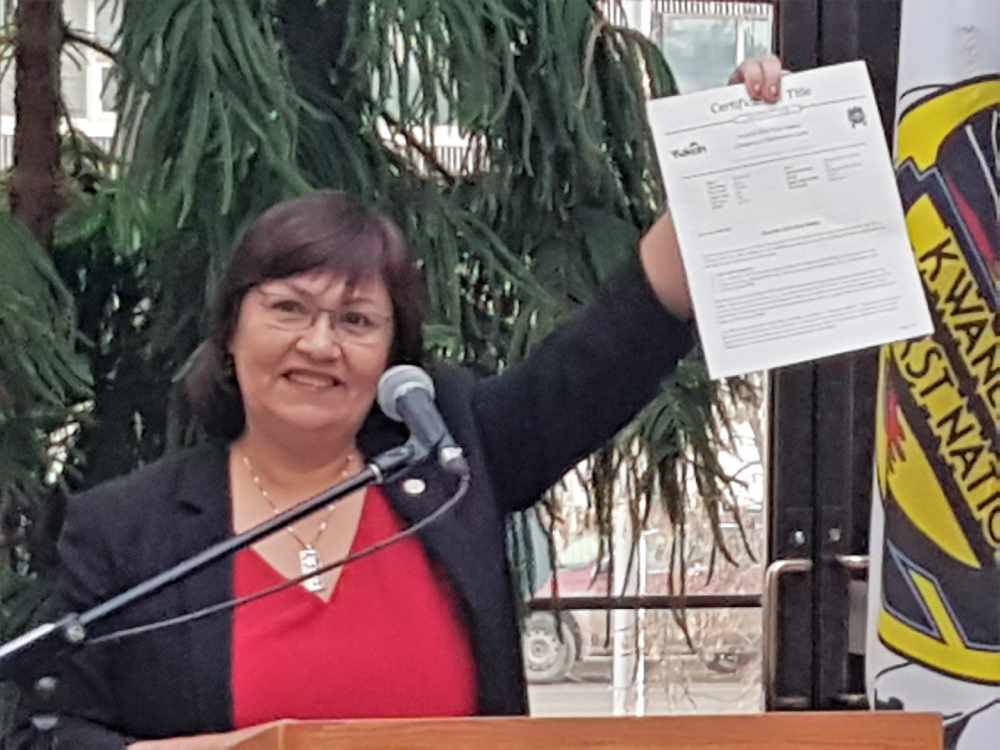 KDFN Chief Doris Bill holds up the first registered title at a celebration in Whitehorse on Wednesday. Photo: Tim Kucharuk/CKRW.
The Kwanlin Dün First Nation can now offer property for lease which can be registered at the territory's land titles office.
It's believed to be a first for Canada.
The Kwanlin Dün First Nation in Whitehorse is now offering Category A Settlement Land for lease with registry at the Yukon Land Titles Office.
This means lessees can use the title to get mortgages, and more First Nations land can be opened to development.
Chief Doris Bill told a celebration Wednesday afternoon, the system is a proven framework for land to go to market for commercial and residential use, and opens up economic opportunities.
"Most importantly, it ensures Kwanlin Dün First Nation retains ownership of its settlement land forever." Bill told those gathered in the atrium of the Law Courts building.
Premier Sandy Silver says it's a historic step in the reconciliation process.
"This is not a trivial, administrative step." Silver said.
"Rather it is a process that ensures First Nations can develop their settlement lands, and enhance their ability to manage their lands in a way that is to the greatest benefit to their citizens."
The First Nations owns about 24 square kilometres of land within city limits, and leases can be issued up to 125 years.
(Premier Silver and Chief Bill are joined by KDFN and Land Titles office staff to commemorate the first title registry. Photo: Tim Kucharuk/CKRW)