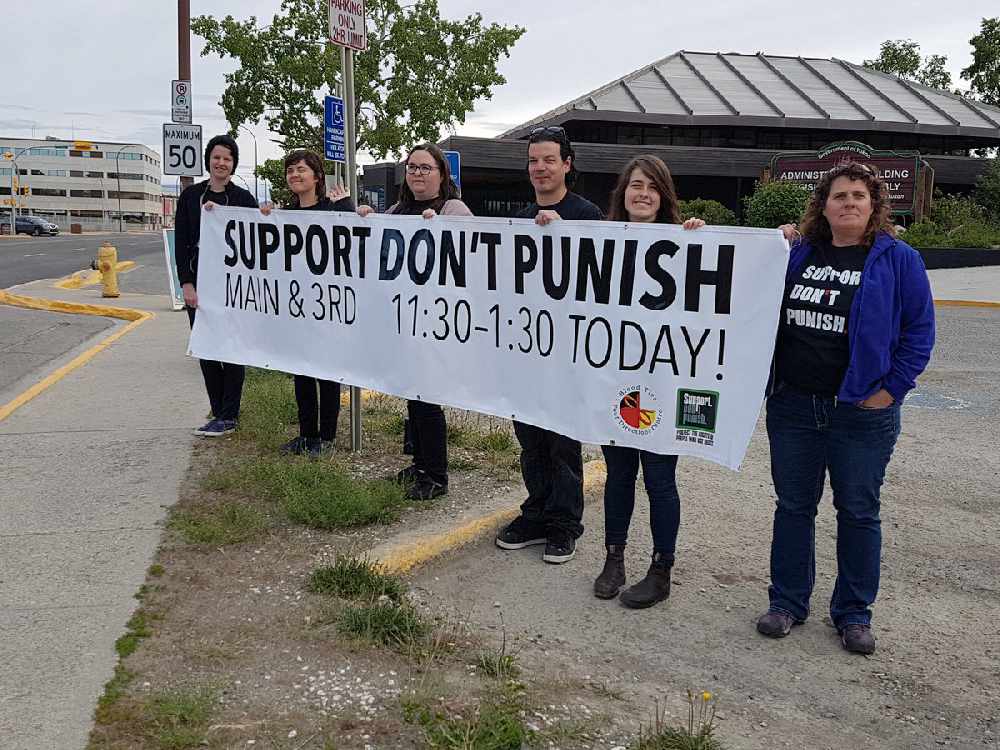 Community members and advocates holding a banner in front of the Yukon Legislature to raise awareness. Photo: Tim Kucharuk
The Blood Ties Four Directions Centre held its first 'Support Don't punish' campaign in Whitehorse, raising awareness around the need for smart drug policies.
A global campaign aimed at making drug use a health issue and not a criminal one has come to Whitehorse.
'Support Don't Punish' events are taking place in over 150 cities in more than 80 countries, and began with a banner unfurling greeting motorists in front of the legislature Tuesday morning.
Patricia Bacon with the Blood Ties Four Directions Centre organized the event in Whitehorse for the first time, and says post cards from a photo booth that took place will be sent to MP Larry Bagnell to raise important concerns.
"To support humane treatment of people who use drugs. To quit throwing them in jail. To decriminalize small possession of drugs and to support people who use drugs and see it as a health issue rather than a criminal one."
"We need to stop shaming them. We need to stop stigmatizing them. We need to have sensible drug policy so we don't have poisoned street drugs in our community that's killing our friends and family. It's about that."
Bacon says there are opioid overdoses in Yukon, and we don't' want to lose anymore loved ones.