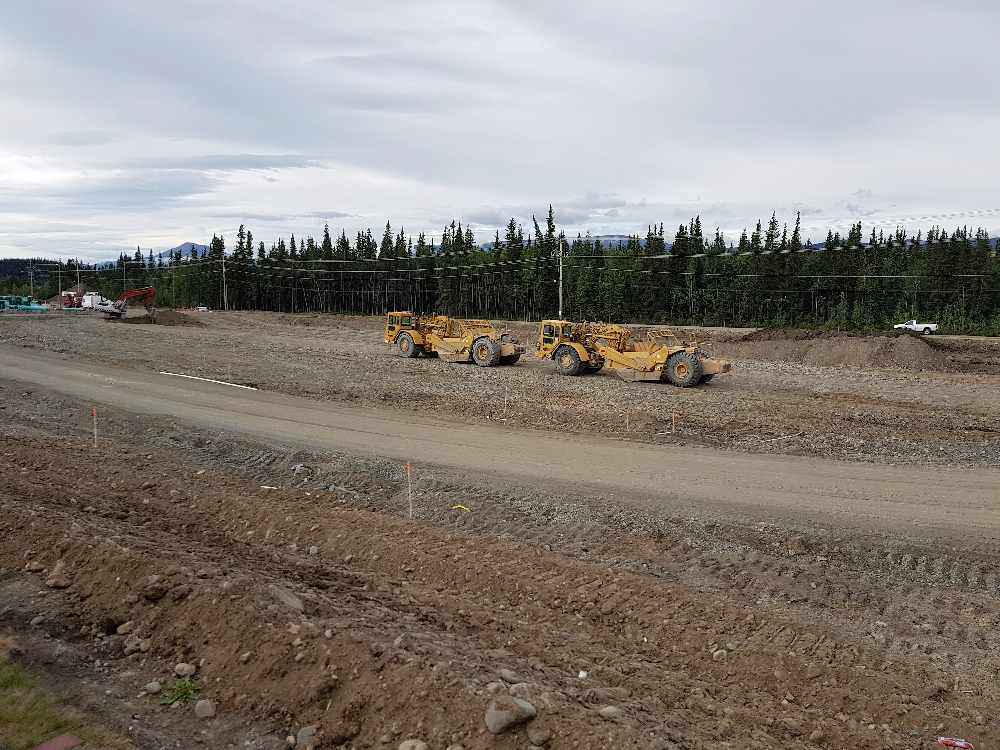 It's a pile of dirt right now but next summer, soccer games and track events could be hosted at the facility behind F.H. Collins Secondary. Photo: Tim Kucharuk/CKRW.
The $7.7 million dollar soccer field and rubberized running track behind F.H. Collins Secondary is slated for a June 2019 completion date.
A new $7.7 million track and field facility is under construction at F.H. Collins Secondary in Whitehorse.
Officials provided a media update Thursday morning on the site right behind the new school, which will contain a regulation size artificial turf soccer field and eight-lane running track, with both meeting international standards.
The facility will also have shot put, two long jump pits, and room for high jump, along with spectator seating.
Senior Project Manager Nick Rodger says right now, crews are working to move adjoining power lines, and installing a fibre optic cable below ground.
He expects the power line work to be done before the end of the year.
Rodger says the artificial turf soccer field will extend the season for athletes.
"They'll be able to clear it off early in the spring and use it right away, whereas with a grass field if you are running on it in the spring it (will have) excessive wear and tear of natural grass."
He adds the track and soccer field will not only benefit F.H. Collins Secondary students, but the community as a whole.
Rodger says the project is on schedule so far, with completion by the end of June next year.
(Video: Rodger points out the progress for reporters Thursday morning.)
On track: Construction is underway the new $7.7 million Track and Field facility behind F.H. Collins in #Whitehorse. pic.twitter.com/hoKFzUfBh1

— Tim Kucharuk (@TimKucharuk) August 30, 2018