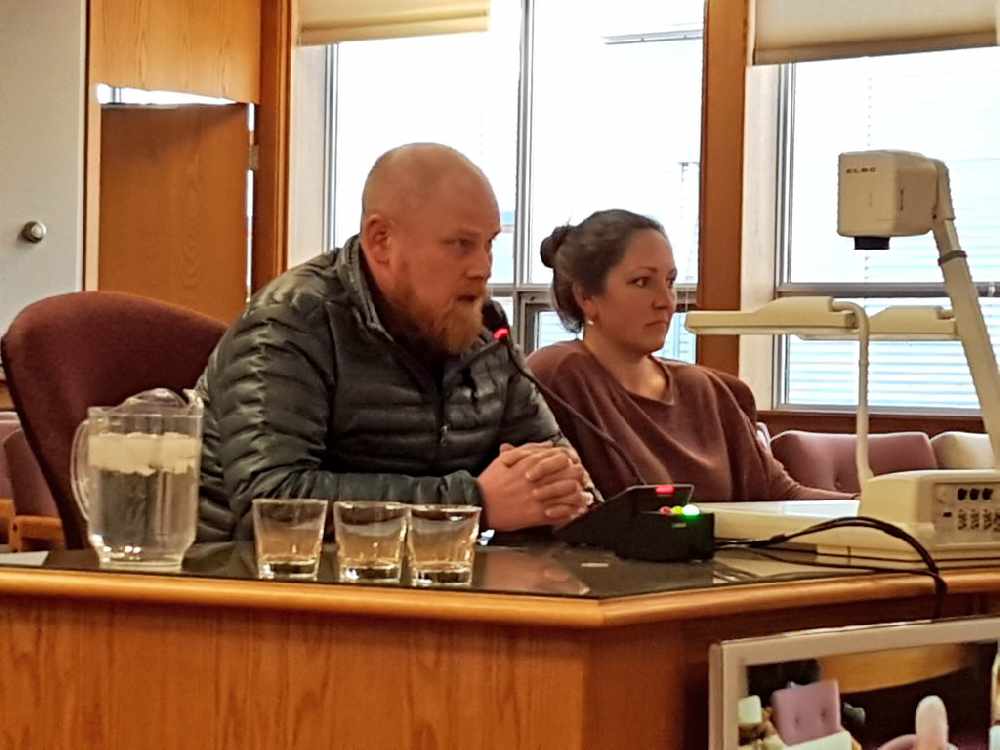 Ben Asquith and Alexandra de Jong Westman with the Da Daghay Development Corporation make a presentation to council Monday evening. Photo: Tim Kucharuk/CKRW.
The Da Daghay Development Corporation has secured a lease on First Nations land and wants to construct a quarry south of Valleyview which would then lead to other development.
The development arm of the Ta'an Kwach'an Council wants to build a gravel quarry on First Nations settlement land in Whitehorse.
At Monday night's meeting, Ben Asquith with the Da Daghay Development Corporation told council the quarry would be located south of Valleyview, and an amendment to the Official Community Plan is needed.
He says the quarry is part of the area's overall development plan.
"After the quarry, we're really going to need to look at what is the market going to tell us at that point in time, whether it's residential or commercial (development)." Asquith told council.
"We're looking at a 15 to 20 year life span for this gravel (pit). It really depends on the projects and contracts."
DDDC has secured a 99 year land lease with TKC.
Administration told council crushing and sorting would take place for one month during the summer each year, and the proponent has already agreed to a number of mitigations such as minimum setbacks, dust control and regular monitoring.
Some councillors had concern with the setbacks proposed in the application, but Senior Planner Mike Ellis says those can be changed as the bylaw process moves forward.
While Asquith says public meetings with area residents have already been held, Ellis is recommending another one be conducted during the bylaw process.
Council will vote on moving the bylaw process forward next week.