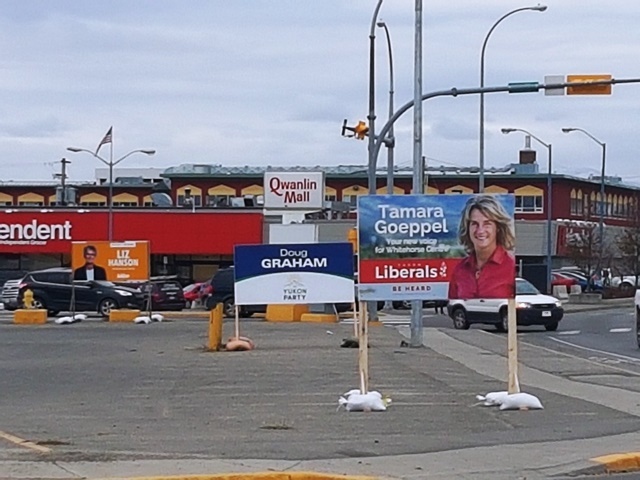 Whitehorse Centre campaign signs during the 2016 territorial election. Former Liberal candidate Tamara Goeppel was sentenced Wednesday for violating the Elections Act. Photo: Tim Kucharuk/CKRW file.
Tamara Goeppel entered a guilty plea on Tuesday, and was sentenced in territorial court Wednesday.
While a Yukon Territorial Court Judge agrees a former Yukon Liberal candidate who pled guilty to violating the Elections Act during the 2016 election had good intentions in trying to get marginalized people out to vote, Tamara Goeppel will have to pay a total of $1,150 in fines.
In his ruling issued late Wednesday morning, John Faulkner noted Goeppel's intentions, and conflicting proxy language from Elections Yukon are not a defence.
The sentence is a $1,000 fine, with a 15 per cent territorial surcharge.
Outside court, Goeppel's lawyer Richard Fowler told reporters Goeppel made an honest mistake, which should serve as a lesson for others.
"(You need) to be extra careful to ensure compliance with the legislation, because when it comes to regulatory offences, an honest mistake is not necessarily a defence."
Faulkner also pointed to Goeppel's distinguished record in the community, and the significant impact of the case's publicity as other reasons for a fine on the lower end of the spectrum.
He said it's vital the integrity of the voting process be maintained, and our democracy should be guarded.
Fowler told reporters Goeppel looks forward to getting back to contributing to her community which she has been a part of for many years.