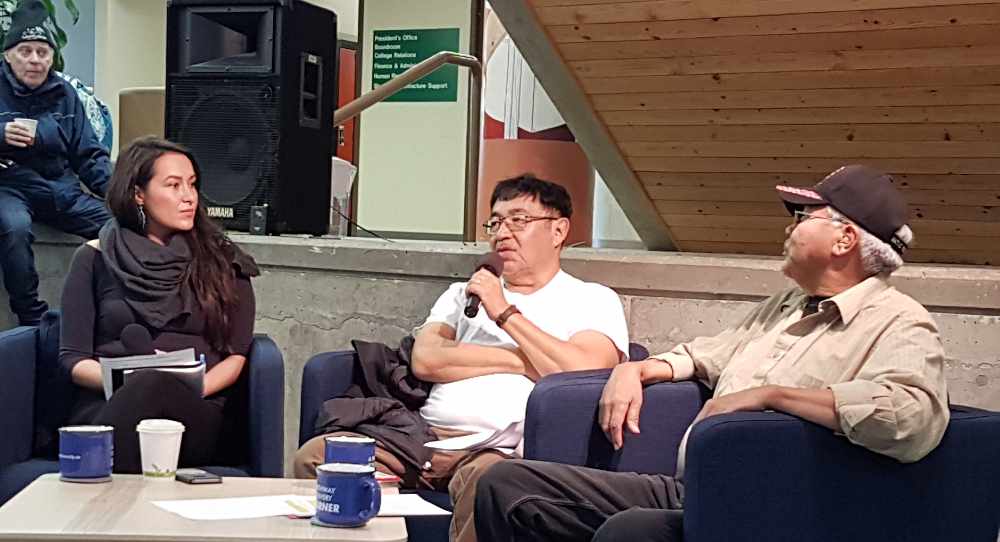 Moderator Angela Code looks on, as David Johnny Sr. (with microphone) and Hammond Dick talk about life outside the Umbrella Final Agreement at Yukon College. Photo: Tim Kucharuk/CKRW.
Hammond Dick with the Kaska Dena Council, and David Johnny Senior with the White River First Nation spoke to Yukon College students in Whitehorse this week.
Two former chiefs with the White River First Nation and Kaska Dena Council who walked away from land claim negotiations with the federal and territorial government many years ago say they are open to getting back to the table.
David Johnny Senior and Hammond Dick spoke to Yukon College students in Whitehorse this week as part of the Perspectives Series of talks.
Johnny Senior says there were flaws in the negotiation process when talks broke down in 2005, and no First Nation should be criticized for signing or not signing the Umbrella Final Agreement.
"There have been many advantages for First Nations (who did sign) the Final Agreements, which we applaud." Johnny Senior said.
"White River simply made the choice to make up these benefits to purchase our own vision of how to deal with our rights, title, interest, and other issues."
Dick says the fundamental issue during negotiations is extinguishing First Nations rights and title, and Kaska Nations just want a fair and balanced agreement.
"When you go to the table, one of the provisions that the government wants to see is that you extinguish all your aboriginal rights" Dick said.
"It's a precondition to the negotiations."
The former Kaska chief says any potential settlement should take place outside of the Umbrella Final Agreement.
Johnny Senior says White River was really close to signing a deal, but in the end walked away which he says in hindsight was the right choice.
He says White River was always treated as an afterthought during the overall First Nation negotiations, and wonders where do settled First Nations stand when funding under the UFA dries up.
The next talk in the series is November 29th.