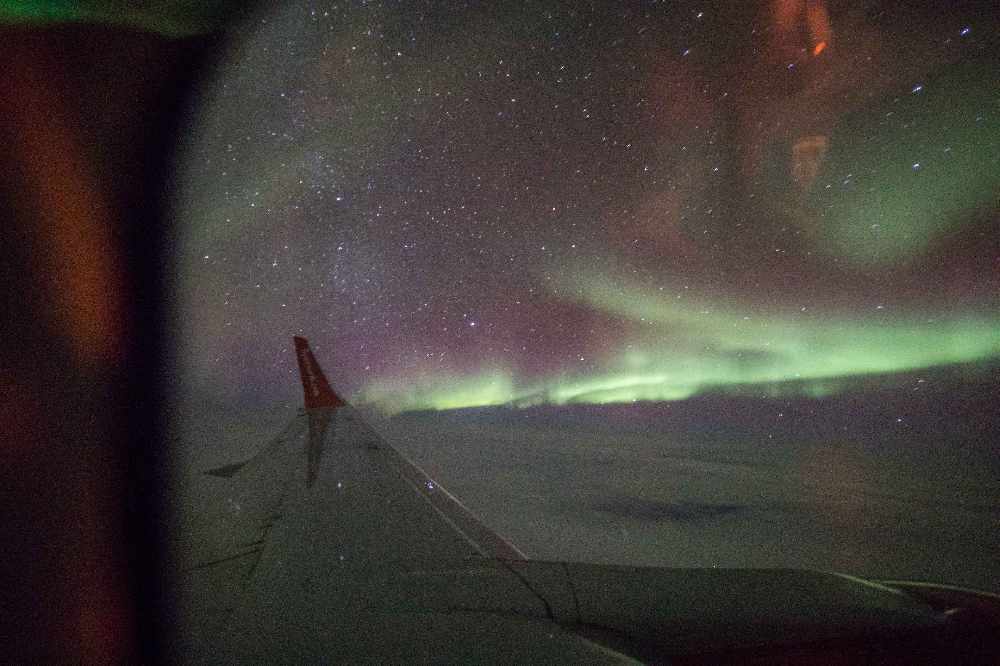 The northern lights from 36,000 feet. Passengers on an Air North charter flight got an up close experience with the aurora borealis. Photo: Neil Zeller for Air North.
Air North, the Yukon Astronomical Society, and Yukon Tourism and Culture partner to offer tourists and locals a 'head on' look at the aurora borealis.
Usually on an hours-long flight, passengers are buried in their e-gadgets, but that wasn't the case on a special Air North charter over Yukon and the Northwest Territories on the weekend.
The airline partnered with the Yukon Government's Tourism Department, and the Yukon Astronomical Society to offer what flight organizer Anthony Gucciardo calls an immersive experience with the aurora borealis.
Gucciardo, who is now the Astronomical Society's past president, says as soon as the flight took off, the aurora's lit up the sky, causing passengers to flock to the windows.
He called what came next a spectacle.
"Certainly, it's a perspective that you do not get anywhere else." Gucciardo said.
"Obviously from the ground it's one thing, and from space it's another, but the next level would be seeing it head on. When it's on the left and on the right of you, it's very different from most other experiences that I think I've had with aurora's."
The flight, which had 91 people paying about $1,000 each, started with a presentation at the Kwanlin Dun Cultural Centre in Whitehorse late Friday night.
The jet then took off at midnight from the Whitehorse airport, and flew in a loop over Fort Simpson and Fort Good Hope in the Northwest Territories, and back over the Arctic Circle to Eagle Plains, returning to the Yukon Capital three hours later.
Gucciardo hopes another flight can be put together for late February or March.