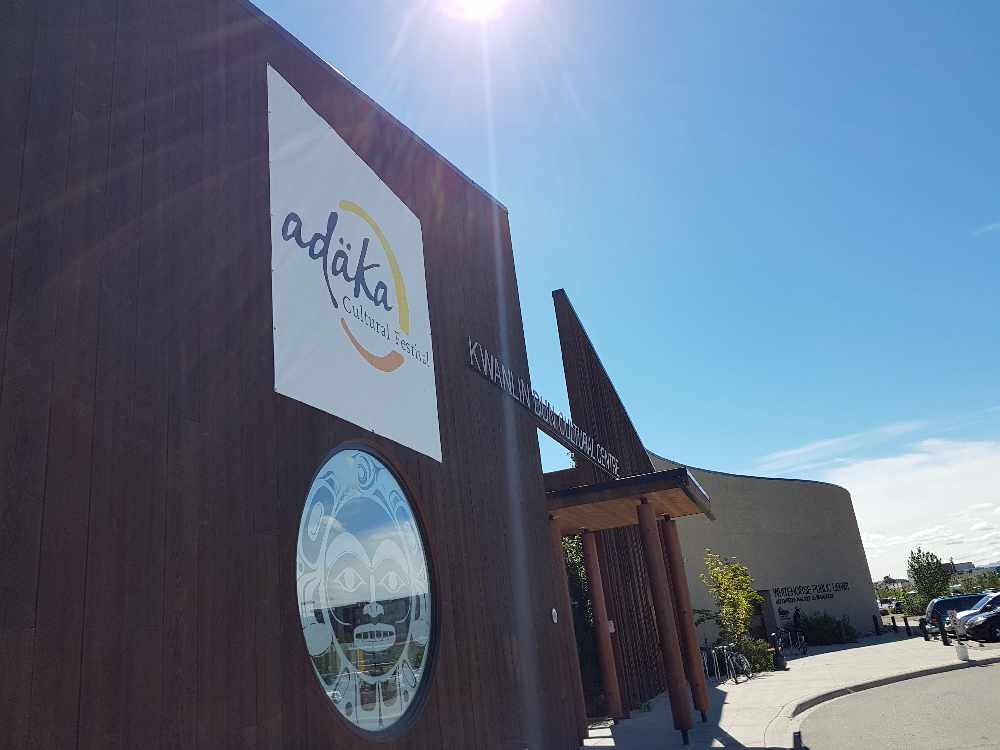 The sun is set to shine on the Adäka Cultural Festival in Whitehorse over the next week. Photo: Tim Kucharuk/CKRW.
The Adäka Cultural Festival begins Friday with an opening ceremony, and ends Thursday with a fashion show.
The eighth Adäka Cultural Festival takes over the Kwanlin Dun Cultural Centre in Whitehorse Friday.
The week-long celebration of First Nations art, culture and dance features workshops, visual artists, performances, a community feast Saturday night, and the ever-popular fashion show to wrap up the festival next Thursday.
Artistic Director Lynn Feasey says for the first time, the festival has spread its wings to include the circumpolar north.
"We've had guests in the past come from the neighbouring territories, but now we've extended that to close the circle east to west." Feasey told the RUSH.
"We have artists coming from Greenland, Russia, Sweden, and Norway. That's pretty exciting too."
Feasey says this is an important event for those involved.
"For the artists, it creates an environment of artistic collaboration and connection, something that they don't get all the time, because everyone is working in remote communities." Feasey said.
"We have a lot of artists who come from Whitehorse and do not get to work together that often."
Feasey says the festival also gives tourists and locals the chance to experience First Nations art and culture.
The Adaka Cultural Festival begins in #Whitehorse at the @KDCulture. Artistic Director Lynn Feasey says for the first time, artists from across the circumpolar north are in attendance. #Yukon pic.twitter.com/JIHV5aJ3ts

— Tim Kucharuk (@TimKucharuk) June 29, 2018