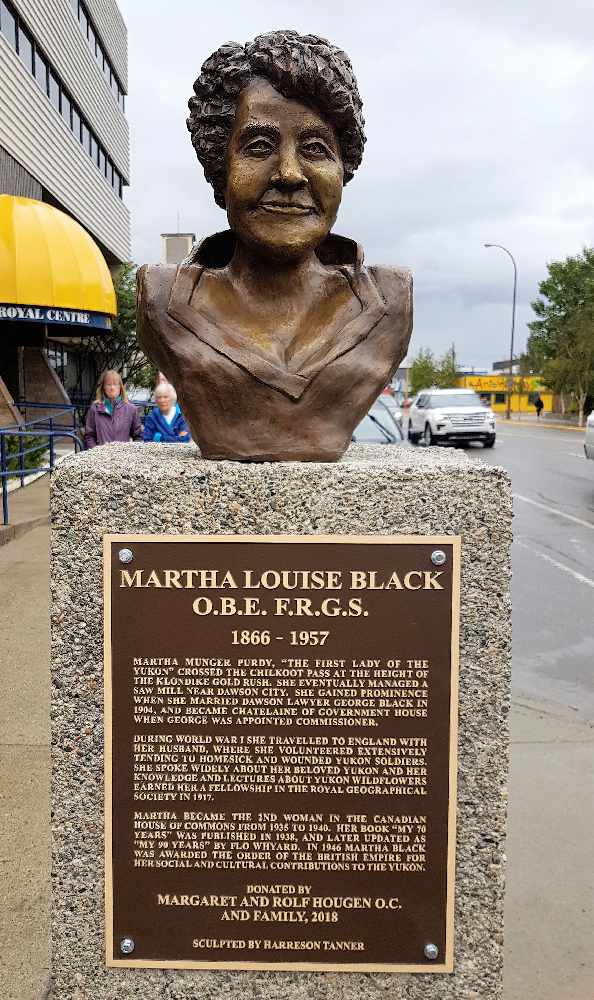 The latest bust, this one of Martha Louise Black, is now on display in downtown Whitehorse. Photo: Tim Kucharuk/CKRW.
The bust of former MP Martha Louise Black joins six others downtown, while the commemoration of another historical figure is in the works.
The seventh in a series of busts commemorating Yukon historical figures now sits at the corner of 4th Avenue and Main Street in downtown Whitehorse.
Rolf Hougen, and former Senator Ione Christensen unveiled the bust of former MP Martha Louise Black in front of about 30 people Thursday afternoon.
Christensen says her grandmother and mother were close friends with Black, and she remembers visiting the trailblazer growing up in Whitehorse.
She notes Black would be very pleased with the commemoration.
"Martha spent her last years in Whitehorse." Christensen told the RUSH.
"Although, Dawson was where most of her career stemmed from. Dawson was staunch Conservative, and Whitehorse was staunch Liberals."
Artist Harreson Tanner took six months to complete the bust, using the same picture that graced Black's Canada Post stamp in 1997.
He says when he started the project he only knew her by name, but that quickly changed.
"Doing the research on Martha Black, I thought at the end of it, we need to yell this from the rooftops." Tanner said.
"This woman was unbelievable. Just a remarkable woman who had a remarkable life, and she's all ours."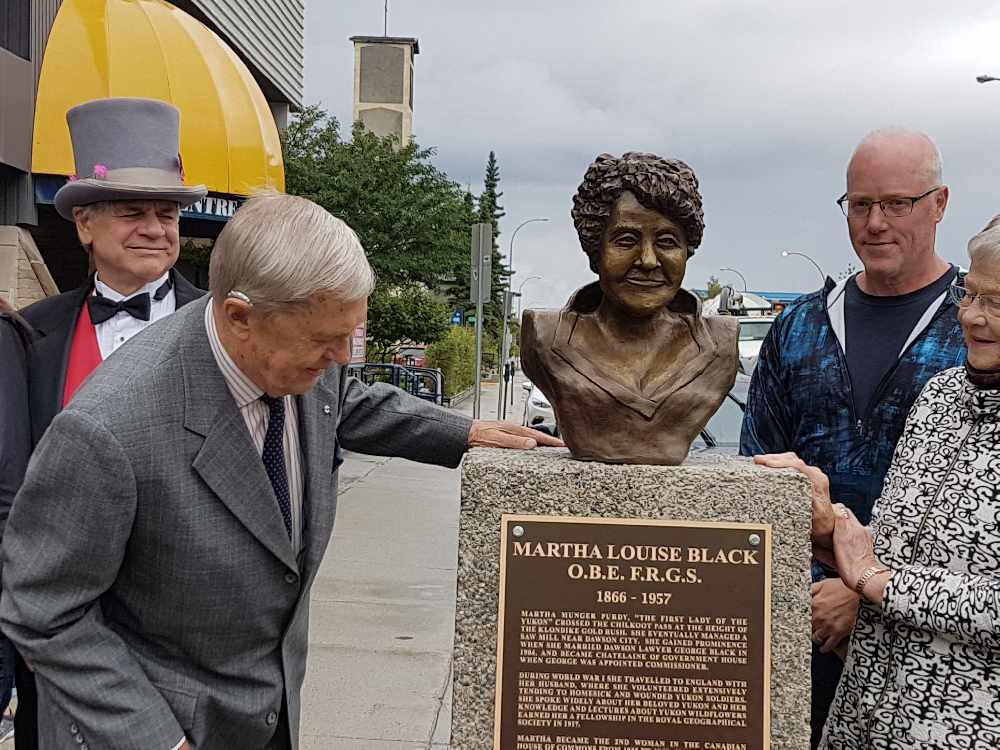 Black becomes the second woman to be featured, after respected Tagish Elder Angela Sidney.
Hougen told those gathered at a reception, writer Edith Josie of Old Crow, who penned articles highlighting life in the community for the Whitehorse Star titled 'Here Are The News' will be the next bust commissioned.
That bust will be placed across from Black at 4th and Main.
(Inset photos: (top) Christensen poses beside the Black bust. (bottom) Hougen checks out the work. Photos: Tim Kucharuk/CKRW)
The big unvieling of the Martha Black bust in downtown #Whitehorse by Rolf Hougen and former Senator Ione Christensen. pic.twitter.com/qZQYM6lOnV

— Tim Kucharuk (@TimKucharuk) August 9, 2018