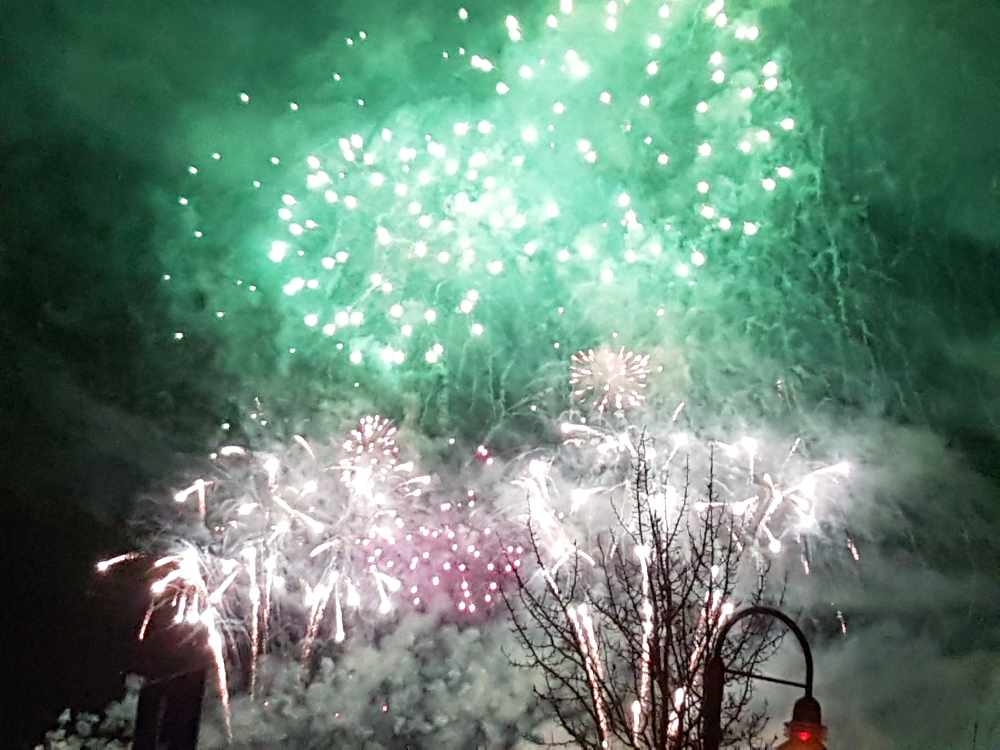 The pyro musical fireworks show had to be delayed until Sunday, but the show still wowed Yukoners. Photo: Tim Kucharuk/CKRW.
Events went at the Kwanlin Dun Cultural Centre in Whitehorse all weekend and wrapped with a pyro musical fireworks show Sunday night.
There was some scrambling behind the scenes for organizers of the the 55th Yukon Sourdough Rendezvous festival on the weekend.
Due to 600 defective electric igniters, the pyro musical fireworks show had to be delayed 24 hours, but blasted off into the Whitehorse sky Sunday night dazzling thousands of Yukoners.
This year's Rendezvous Queen Michelle Friesen was crowned on Saturday night.
The 1st Princess is Heather Grant, 2nd Princess and Miss Congeniality Kaylee Levesque, and Joy Harry was crowned the People's Princess.
The Sourdough Sam for this year is Sam Pool.
Festival-goers had a chance to check out activities on the snow pad Friday, Saturday and Sunday then make their way indoors to warm up with various cultural exhibits and entertainment.
(Below: The 2019 Rendezvous Queen Michelle Friesen (seated) is joined by (left) Joy Harry, Heather Grant, and Kaylee Leveque on stage Saturday night. Photo: Yukon Sourdough Rendezvous/Facebook)