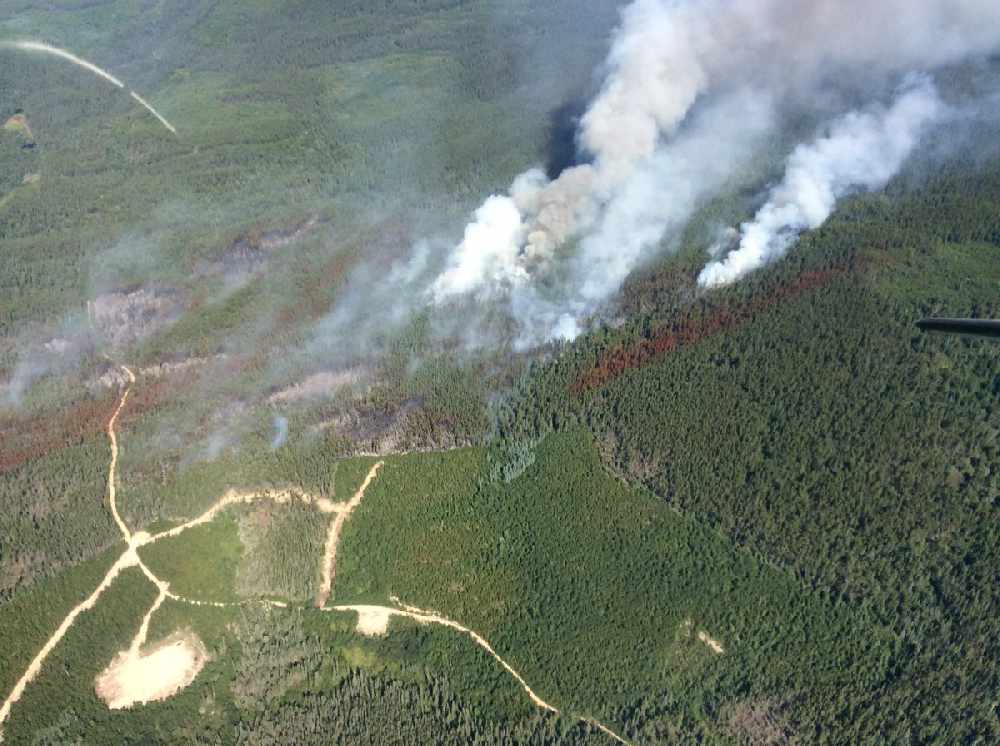 High wind has fanned Poison Lake Fire northwest of Watson Lake. Photo: Yukon Wildland Fire Management.
Poison Lake Fire now over 20,000 hectares, as Town and Environment Yukon issue fire bans.
The Town of Watson Lake says it is imposing a fire ban in town limits.
The town issued the ban early Friday afternoon, which means there's no fire pits or burning of any kind, as the fire danger rating for the area remains extreme.
Environment Yukon is also putting a fire ban in place for the Watson Lake, Simpson Lake, Frances Lake, and Big Creek campgrounds.
Yukon Wildland Fire Management says the Poison Lake Fire northwest of Watson Lake is now over 20,000 hectares in size, and was burning four kilometres from the road..
Officials say the Robert Campbell Highway remains closed north of town between kilometres 30 and 110, as the flames jumped the Frances River and is heading for the highway.
An air quality advisory also is in effect for Watson Lake.
Officials stress the town itself is not threatened.
A tactical evacuation of the area between kilometres 30 to 60 was issued Thursday night, meaning those with medical issues, or who want to leave voluntarily are doing so.
Meantime, the Windy Arm fire which is visible from the South Klondike Highway, and Conrad Campground has grown to 200 hectares as it continues to burn in the wilderness.
The fire danger rating remains extreme or high throughout most of Yukon, as 27 fires burn over 56,000 hectares of forest.