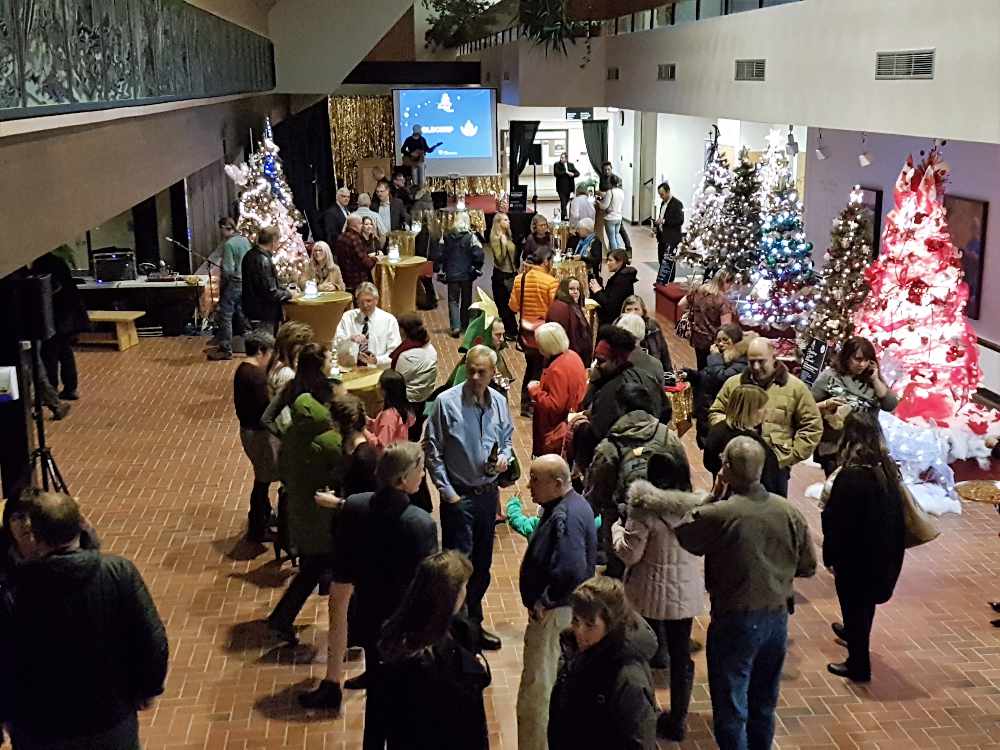 The NorthwesTel Festival of Trees kickoff also featured a big announcement from the Hospital Foundation. Photo: Tim Kucharuk/CKRW.
The festival will feature a week's worth of activities for Yukoners of all ages, as the Yukon Hospital Foundation embarks on a major fundraising campaign.
The foyer of the Yukon Government's Main Administrative Building in Whitehorse is a lot more colourful.
The NorthwesTel Festival of Trees is underway for another year, and a opening kickoff to a week's worth of events was held Thursday evening, drawing politicians and the public to get a first look at the trees.
The trees will eventually be auctioned off at the Grand Ball December 2nd in the hopes of raising between $400,000 and $500,000 for the Hospital Foundation.
Festival events include the Santa Breakfast on Saturday, Cookies with Santa on Tuesday, and Seniors Soirée on Wednesday.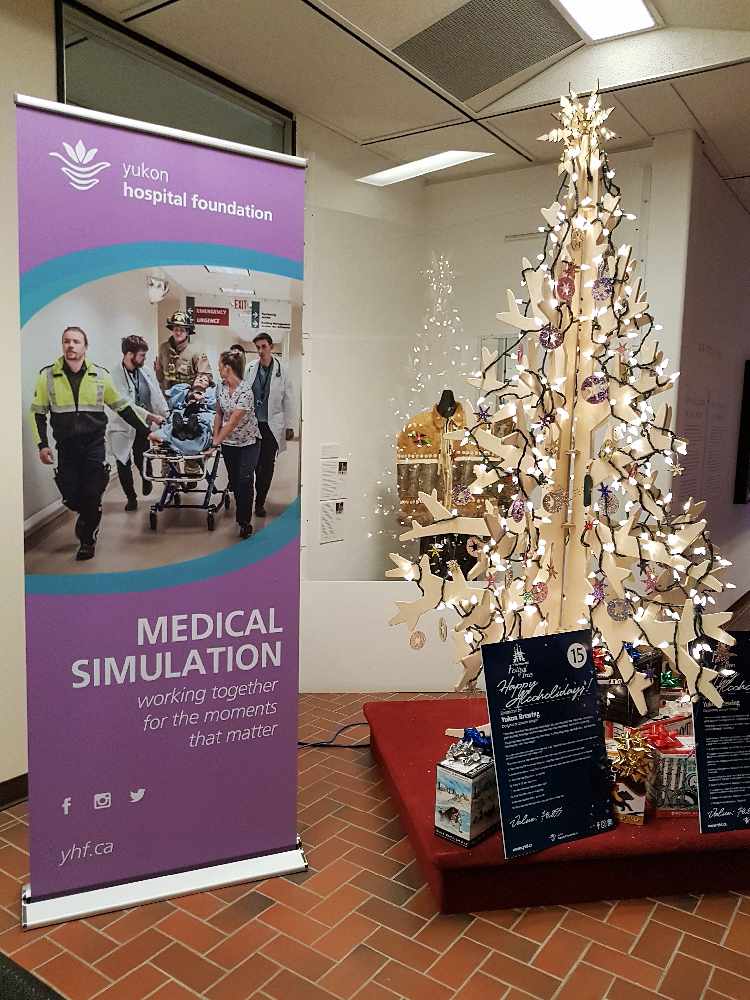 The Foundation's Karen Forward says the community has been a great supporter of not only the Festival of Trees, but of the foundation.
"It's really important to us. The Teddy Bear Clinic was one of those initiatives last week were we got to give something back to the community and say thank you." Forward told the RUSH.
"Every dollar we raise matters. (From) large sponsors (to) small donors, everyone counts in this."
The Foundation's latest fundraising campaign was announced at the festival kickoff, as it's hoped $1 million can be raised over the next two years for a Medical Simulation Centre,
"Simulation is something that is quite common as a training tool for nurses, doctors, firefighters, and EMS workers." Forward said.
"Currently, there is no one place in the Yukon were they can train together for situations that happen specifically in the Yukon."
(Inset: a display touting the Hospital Foundation's latest campaign alongside one of the trees. Photo: Tim Kucharuk/CKRW.)
Forward says the new centre would go into vacated space in the Whitehorse General Hospital, with mobile training also included.
The centre would feature live action mannequins to simulate such emergencies as an accident, or a baby being born early in a rural community.