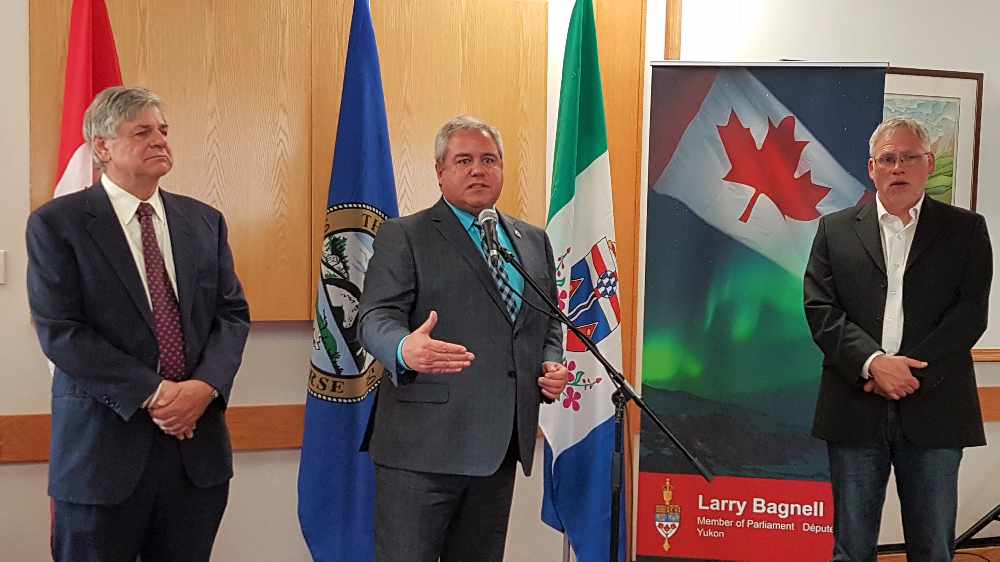 Whitehorse Mayor Dan Curtis (centre) takes questions after Thursday's announcement at City Hall. Curtis is flanked by MP Larry Bagnell (left) and Community Services Minister John Streicker. Photo: Tim Kucharuk/CKRW.
A new Second Avenue bus hub, transit buses, road work, and a multi-use trail are part of four projects.
Whitehorse transit users will have a heated space and access to public washrooms in front of city hall as part of federal funding for four new infrastructure projects.
MP Larry Bagnell announced Thursday, $13.2 million will be going to a number of projects including the new bus hub on Second Avenue, and the replacement of four city buses.
The bus hub at Second Avenue and Steele Street will have a heated waiting area, washrooms, and bike racks. Bagnell says if you want people to use transit, you have to make it easy for them, and it's great the city is embarking on the project.
City administration says the hub project is in the design stage as part of the city's new services building where Fire Hall #1 now stands. A new fire hall is now under construction just west of the Kwanlin Dun Cultural Centre.
Other projects include the reconstruction of Tlingit Street in Marwell and upgrades to Cook Street. The Cook Street upgrades include a multi-use trail connecting to the Black Street stairs.
Mayor Dan Curtis says the funding does help close the infrastructure gap.
"This would be something if it relied on our tax base, which our tax base only covers half of our (Operating and Maintenance Budget) then we have to get fees for service, and generosity from other levels of government for our O and M, let alone our capital expenditures," Curtis told reporters. "So it fills that gap tremendously."
The territorial government is contributing $3.3 million to the projects, while the city is putting up $245,000.
Thursday's media event followed funding announcements for the North Klondike Highway, and for Pelly Crossing earlier in the week.