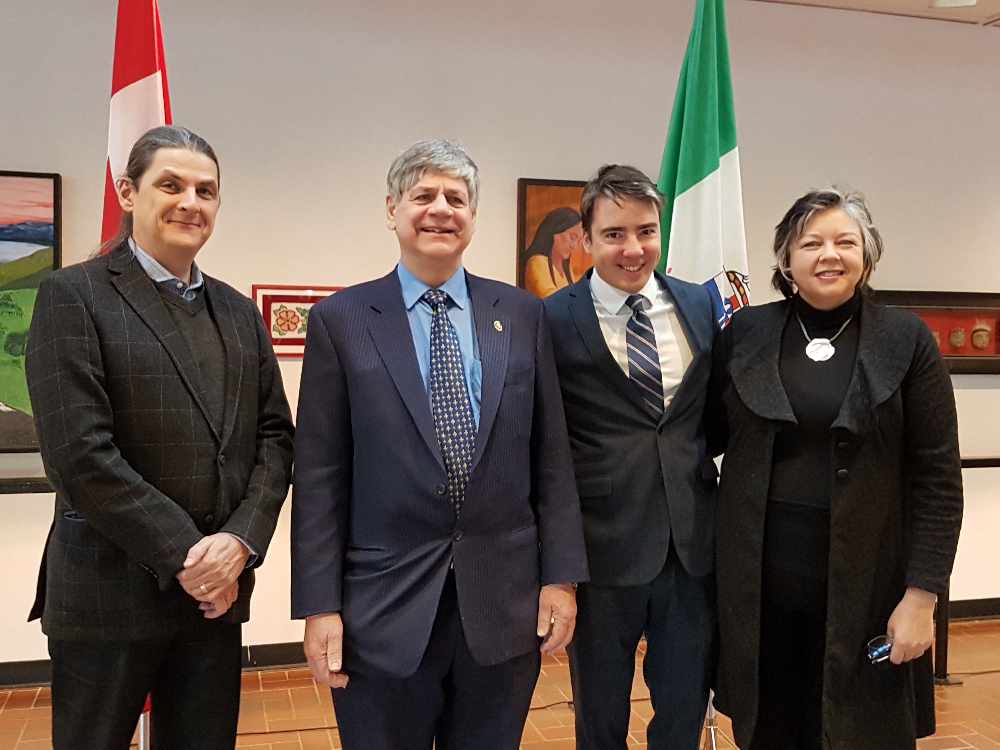 From left to right; AFY André Bourcier, MP Larry Bagnell, Commission scolaire francophone du Yukon president Jean-Sebéstien Blais, Minister of Education Tracy-Anne McPhee (Tim Kucharuk/CKRW)
Yukon MP Larry Bagnell has announced $7.5 million for community spaces in the new school.
More money is on the way as planning and design for a new Francophone High School in Whitehorse continues.
Thursday morning, Yukon M-P Larry Bagnell announced $7.5-million from the federal government to create community spaces such as a music studio and theatre in the new school to be built on the site of the old F-H Collins Secondary site.
"This is the largest federal contribution to Official Languages Minority Community infrastructure in Canada in over a decade."
Francophone School Board President Jean-Sebéstien Blais says this money for a music room, theatre, and art space is part of having the new school offer the same type of programming as other schools.
"We were hoping to always create a school that was a good fit not just for our students but for the community, and by adding $7.5 million today we can be sure that we'll offer community spaces to our schools. "
There's some delays due to remediation of the old F-H Collins site but officials are hoping construction on the new school can be complete by late 2019, or early 2020.
The Yukon Government has already committed $20 million toward construction of the 150 to 200 student school.