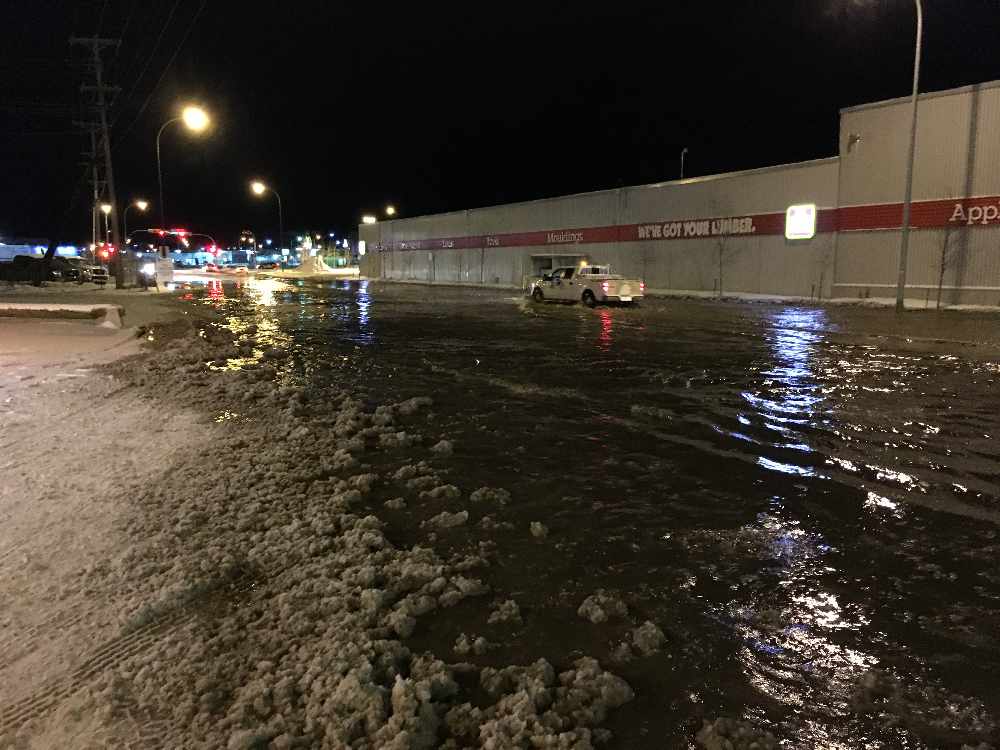 A massive pool of water on Quartz Road following a burst water line under Farmer Roberts Tuesday night. Photo: Oshea Jephson/CKRW
City crews were on scene late last night working to shut off a broken water main that dumped millions of litres of water into Whitehorse streets.
City of Whitehorse Public Works crews hope to have a major water main break near Quartz Road fixed by the end of the day.
Water and Waste Services Manager Geoff Quinsey says it took three hours to isolate the break in front of Farmer Roberts, and by then an estimated 2,500 cubic metres of water, or enough to fill an Olympic-size swimming pool, had leaked into the building and nearby roads.
He says loaders and pumps were brought in to start clearing the area between Second Avenue and Earl's, and the road is now back open.
"A combination of pushing water around with equipment and pumps, they managed to clear the water overnight. That left us with a lot of ice on the road and so that was the reason why the road needed to be closed coming into rush hour this morning."
Vehicles could be seen struggling last night to get through the almost foot deep water as crews worked to shutdown the main line and Quinsey says it took about three hours after the leak was first discovered to identify where it was coming from.
"If we just start slapping valves closed, then we risk having low pressure in the affected areas so when we've isolated the main in the break here, we actually haven't closed the valves all the way. We're still allowing some water to flow through and that's to make sure that we don't have ground water back-flowing into the infrastructure."
Quinsey says full water flow restored to Waterfront Place by tomorrow.
Farmer Roberts itself suffered extensive damage, and Quinsey says the city's insurance is now working with the company's insurance.