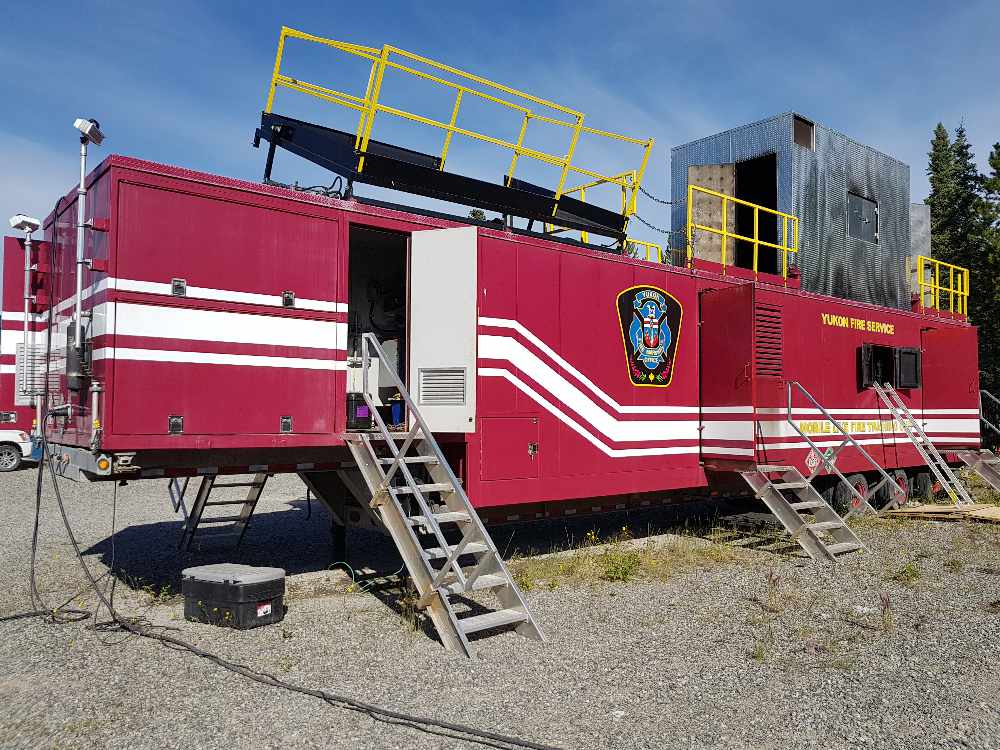 Participants in this year's Ember Fire Academy got a chance to put their skills to the test in a fire simulator trailer on Friday. Photo: Tim Kucharuk/CKRW.
12 women are getting basic firefighter training from Yukon Protective Services this week.
A program to get Yukon women learning about the basics of being a firefighter is now into its fourth year.
The Fire Marshal's Office has been running the Ember Fire Academy all week, with 12 participants being put through the paces at the Golden Horn Fire Department south of Whitehorse.
Project Manager Maggie MacQuarrie with the Fire Marshal's Office says the week involves extracting people from vehicles, dealing with hazardous material, and of course fighting fire.
"It's amazing to watch these girls come into the academy on Monday morning, many of whom haven't had any exposure to the fire service, and start to build those skills." MacQuarrie said.
"By day five, they're going into a burn trailer, they're fighting live fire, they're working in their platoons, and activating the skills learned throughout the week."
Ember also features transporting patients from difficult terrain, and wildfire response.
MacQuarrie says about 20 per cent of the participants usually end up applying to Protective Services to become either a paid or volunteer firefighter.
She says the program each year is open to anyone aged 16 and up.
One of the participants is Chelsea Larouche, who says the week has been both mentally and physically challenging.
"I've really enjoyed just meeting other girls who are sharing the same interests, we've been pushing each other, we've been learning each other's strengths and weaknesses, and really picking each other up, and pushing each other harder." said Larouche.
"It's really empowering pushing myself. A different part of my body is hurting every day."
Larouche says her interest has broadened during the week to the point where she's going to apply to become a firefighter.
This year's edition of the academy wraps up on Saturday.
This week's Ember Fire Academy wraps up with live fire exercises in a simulator at the Golden Horn Fire Dept. Maggie MacQuarrie with the #Yukon Fire Marshal's Office says the women taking part are learning the basics of becoming a firefighter. pic.twitter.com/NwToxjNuQT

— Tim Kucharuk (@TimKucharuk) July 20, 2018