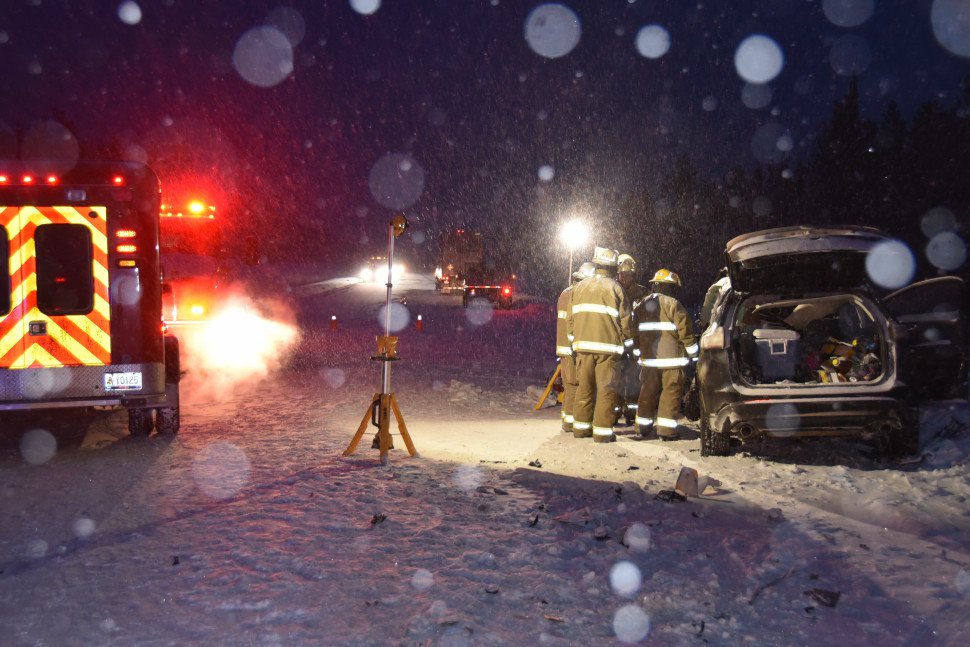 Yukon RCMP respond to a collision on the Alaska Highway near the Judas Creek subdivision. Photo: Yukon RCMP
The 'Jaws of Life' were needed to get the driver out of the vehicle.
Yukon RCMP have provided additional details on Saturday's collision that shut down the Alaska Highway between Jake's Corner and the Carcross Cutoff.
Whitehorse RCMP, along with Fire Rescue from Marsh Lake, Golden Horn, and Mount Lorne arrived on scene at the Judas Creek subdivision.
A tractor-trailer travelling south slowed when it approached a vehicle that was pulled over on the shoulder with its hazard lights engaged.
Police say the tractor-trailer engaged their hazard lights while slowing down as they were unable to safely pass the parked vehicle due to oncoming northbound traffic. A Ford Edge SUV that was also traveling south drove into the back of the tractor trailer.
The driver of the SUV was extracted from the vehicle by use of the 'Jaws of Life' before being taken to Whitehorse General Hospital.