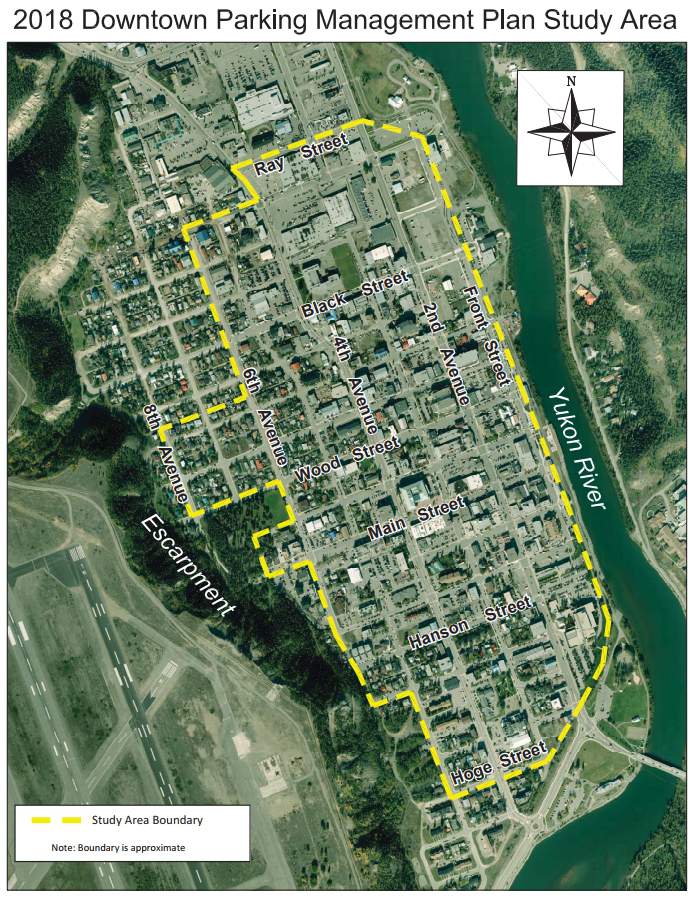 Study boundaries for the Downtown Parking management Plan (City of Whitehorse)
The city of Whitehorse says work is underway to determine the parking needs within the city and what options can be pursued.
The city of Whitehorse is providing an update on its Downtown Parking Management Plan.
The work is part of an effort to identify the number of parking stalls, how long vehicles are parked for, and when and where parking is in high demand and Planner Ben Campbell says it starts with consultants identifying how much parking there is in the city.
"They can measure, generally, how many parking spaces there are downtown. It has changed since 2011 either with the addition or subtraction of, say, off street parking lots and stuff like that. These inventories will all help inform exactly how many stalls we have."
Campbell says those numbers will then be reviewed to see where existing infrastructure can be improved but other options could include multi-story parking structures but more work needs to be done. .
"It's a very complicated matter in terms of finding land sufficient to have a parkade downtown. How does it fit within the overall downtown context? The economics of these parkades. We do want the update to still look at this and see if it's appropriate as a, sort of a long term solution. "
The plan is expected to be complete as early as April.