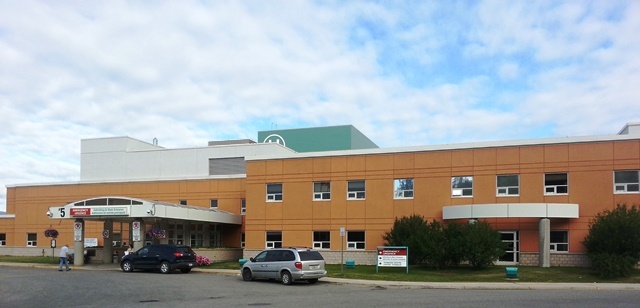 The Whitehorse General Hospital. Photo: Tim Kucharuk/CKRW file.
The president of the Yukon Medical Association is providing a closer look at what's going on at the facility after the Yukon Hospital Corporation addressed the overcrowding situation in early November.
The president of the Yukon Medical Association says after-treatment patient care is being affected due to overcrowding at the Whitehorse General Hospital.
Dr. Alex Poole tells the RUSH, staff are trying to prevent that from happening, and while you can get immediate treatment for say a gunshot wound, future planning for emergency or elective patients is being affected.
"Care goes beyond that. Care goes to planning around discharge, planning of the patient, making arrangements so they can have an elective procedure, as well as making sure that they have someone to care for them when they are sent home." Poole said.
"All of those are greatly impacted."
He says the overcrowding is having a domino effect in the community.
"If (patient surgeries) are cancelled, and they have to be rescheduled at another time, then those people may have taken time off, they may have arranged for somebody to look after their children, or I may have to cancel 20 people who intended to see me at the clinic to fit that operation in at another time for instance."
Dr. Poole says up to five overnight patients per day are being kept in a day care recovery area, which does not offer much privacy, and has more patients using one washroom.
He says people in long-term care beds are clogging up the hospital, and the Whistle Bend continuing care facility can't open soon enough.
Dr. Poole notes the only way for the hospital to function is to transfer patients to rural hospitals.
Last month, the Yukon Hospital Corporation put out a letter to Yukoners about the overcrowding, saying they were working to address the issue.
The Corporation said 15 patients had been transferred to rural hospitals for between three and six weeks at a time since June to help alleviate hospital bed pressures in Whitehorse.