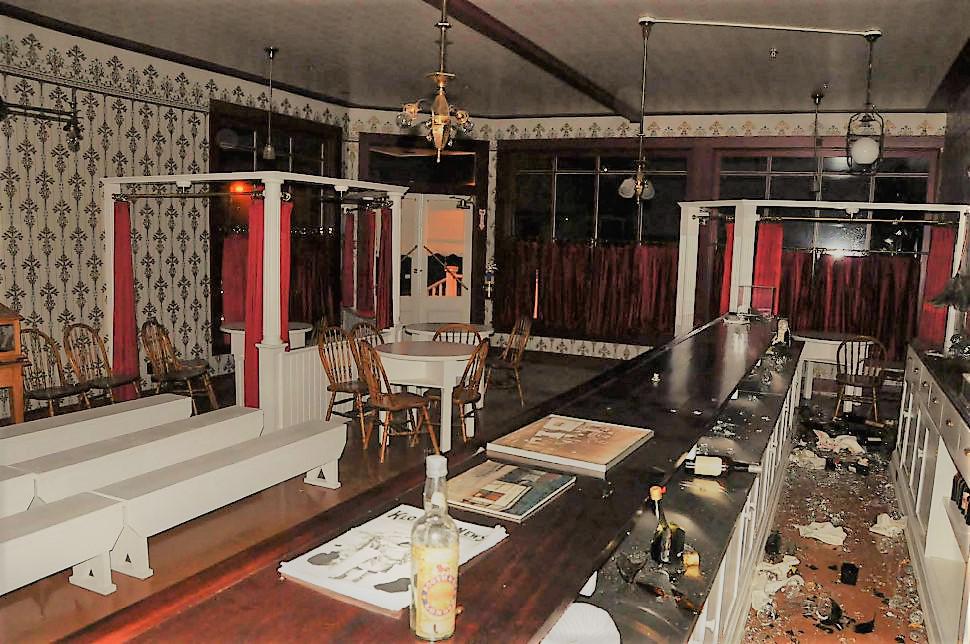 The inside of the Red Feather Saloon is a lot worse for wear after the October 21st break in. Photo: Yukon RCMP.
A 19-year-old Whitehorse man faces two charges in connection with a break in at the Red Feather Saloon October 21st.
A Whitehorse man is facing charges after a break in to a popular historic site in Dawson City.
Police say they were called to the Red Feather Saloon about 1 a.m. on October 21st.
A 19-year-old man was found inside and arrested.
It's alleged he smashed several artifacts in the Gold Rush era bar, including original items.
The man is facing charges for break and enter and mischief over $5,000 in connection with the incident.
He was released on conditions with a promise to appear in court in Dawson City on December 11th.
Meantime, we're getting a clearer picture of what happened, and the extent of the damage.
A statement from Parks Canada says during the investigation, RCMP and Parks Canada used detailed inventories and floor plans to determine how much was actually damaged.
Parks Canada says that bottles, flutes, decanters, and a variety of glasses, 27 historic and original objects, 80 reproductions and props were all damaged or destroyed.
The department says the total cost of the damages - including repairs to the front door and window and cost to replace the damaged objects - is around $10,000.
Parks Canada is working with Yukon Government to increase security measures at the building, and to refurnish the Saloon for the 2019 visitor season.
(This story is updated 12:09 p.m. Thursday)