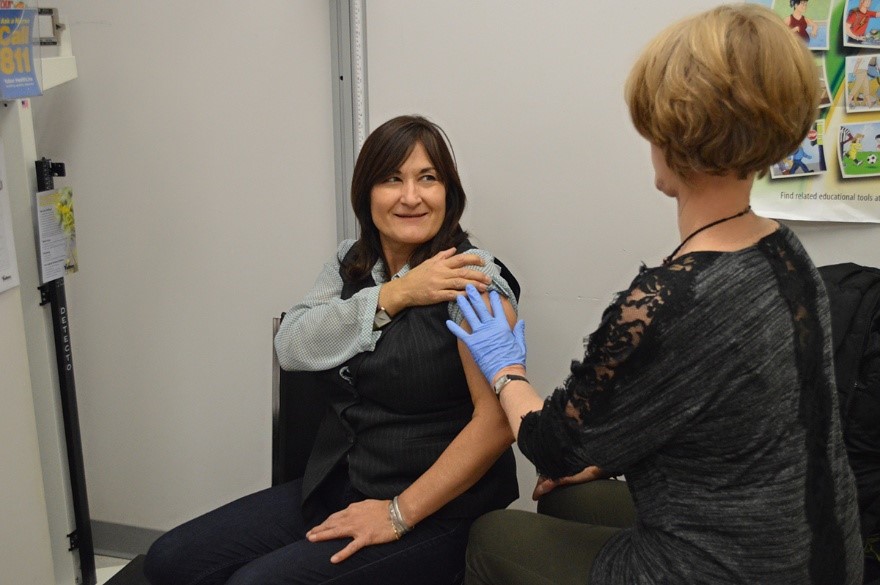 Health Minister Pauline Frost rolls up her sleeve for a flu shot earlier this month. The opposition wants to know if her department will cover the costs for Yukoners shots outside the territory. Photo: Yukon Government.
The opposition Yukon Party wonders if the government will pick up the tab for Yukoners who are denied flu shots in other jurisdictions, while the minister says she'll look into it.
The covering of flu shot expenses for Yukoners outside of the territory is coming up in the legislature.
On Thursday, Watson Lake MLA Patti McLeod told the house, one of her constituents is going to school in B.C., but that province won't give her the shot because they say it's Yukon's responsibility, and is asking the government to commit to covering the flu shot outside the territory..
"On principle, I believe the system should be encouraging Yukoners to get immunized against the flu. Reducing the incidents of flu in the territory, will actually reduce stress and financial pressures on our health system as a whole." McLeod told the house.
"Asking students to fly home, or wait until they are back for Christmas, unfortunately, misses the point."
Health and Social Services Minister Pauline Frost says the government will address this on a case-by-case basis.
"If it seems to be a broad cross-Canada issue, then we'll address it." Frost told reporters outside the house.
"Right now, it's one person requesting a flu shot (through) the opposition, I'll respond through the department."
The department says flu and other immunizations outside of the territory are not eligible for reimbursement, however, most schools offer their students the shot for free or at a reduced rate, while clinics are offered here at home during the holiday break for returning students.