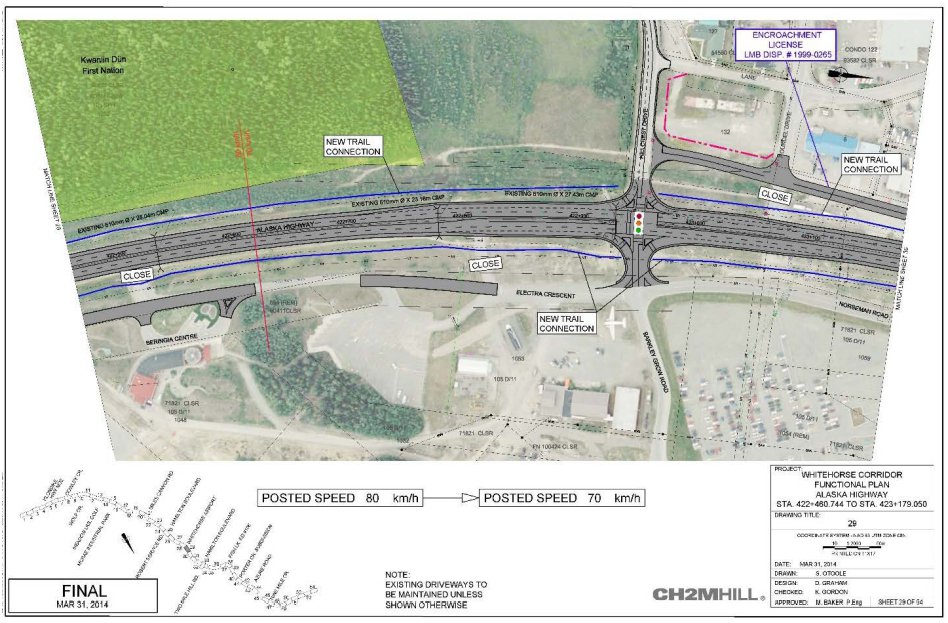 Proposed plans for an intersection on the Alaska Highway near the Hillcrest neighbourhood. Photo: YESAB
Residents of Hillcrest are asking the government to follow through on the sole recommendation made by Yukon's Environmental and Socio-economic Assessment Board.
While Yukon's environmental regulatory assessor is recommending a new gas station go ahead in the Hillcrest area of Whitehorse, the local community association is asking for the government to follow through on the lone recommendation.
In the approval, the Yukon Environmental and Socio-economic Assessment Board suggested traffic lights and a crosswalk be installed at the intersection of the Alaska Highway and Hillcrest Drive within three years of completion of a North 60 Petro Cardlock and Convenience Store.
Association President Shaunagh Stikeman has written a letter to Minister Richard Mostyn saying even within the review process, a case was made for the lights to be installed before construction was complete.
"While we welcome this development, it has increasingly raised our concerns with respect to safety for the highway as we anticipate that there will be more and more traffic coming into the cardlock refueling station."
Stikeman adds the intersection has been dangerous for many years.
"I think YESAB made a pretty strong case for creating a controlled intersection on the highway for Hillcrest already, in the present circumstances. "
A final decision on project approval from the decision bodies, which in this case is YG's Community Services department and the Fire Marshal's Office, is expected within 30 days.