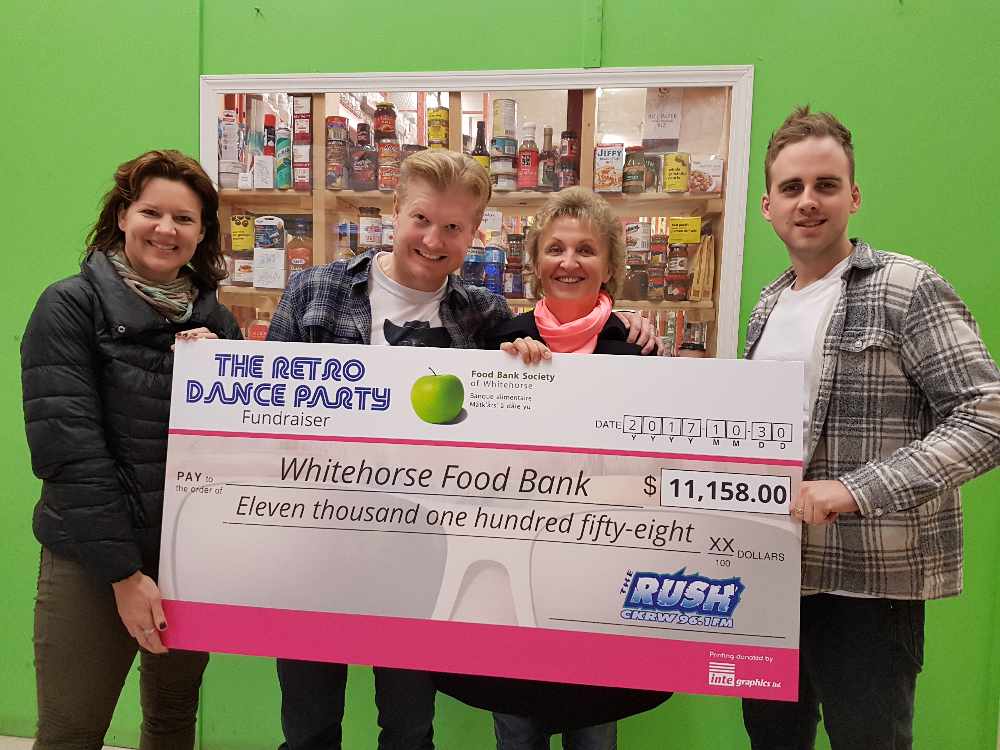 From left to right; On-air hosts Moira Sauer and Bobby Ferris, General Manager Eva Bidrman, and Food Bank Executive Director Tristan Newsome (Tim Kucharuk/CKRW)
CKRW personnel were on hand to deliver the funds raised through the 'Retro Dance Party'
The Whitehorse Food Bank is welcoming a big donation from a special fundraiser put on by the RUSH in September.
The Retro Dance Party raised $11,158 dollars and station personnel presented the cheque to Executive Director Tristan Newsome Friday.
Newsome says the community support allows the Food Bank to keep doing the good work they're doing.
"We saw our numbers decline a little bit during those Summer months which was great, gave us some breathing room, but we have seen them steadily rise as the temperatures lower. So this is going to be really great. It's going to support us, allow us to purchase the perishable items, the healthy items that individuals who come into the food bank are looking for."
Newsome says it was so generous of the community to support such an awesome event, and the donation is welcome.
"We're about to go into a pretty difficult season for a lot of our clients where it comes down to trying to make the decision between heating, and rent, and purchasing food so this kind of donation, which is absolutely incredible, will go to allowing us to help those individuals not have to choose between those things."
Newsome says the donation will also help the organization buy in bulk and save money in the long run.