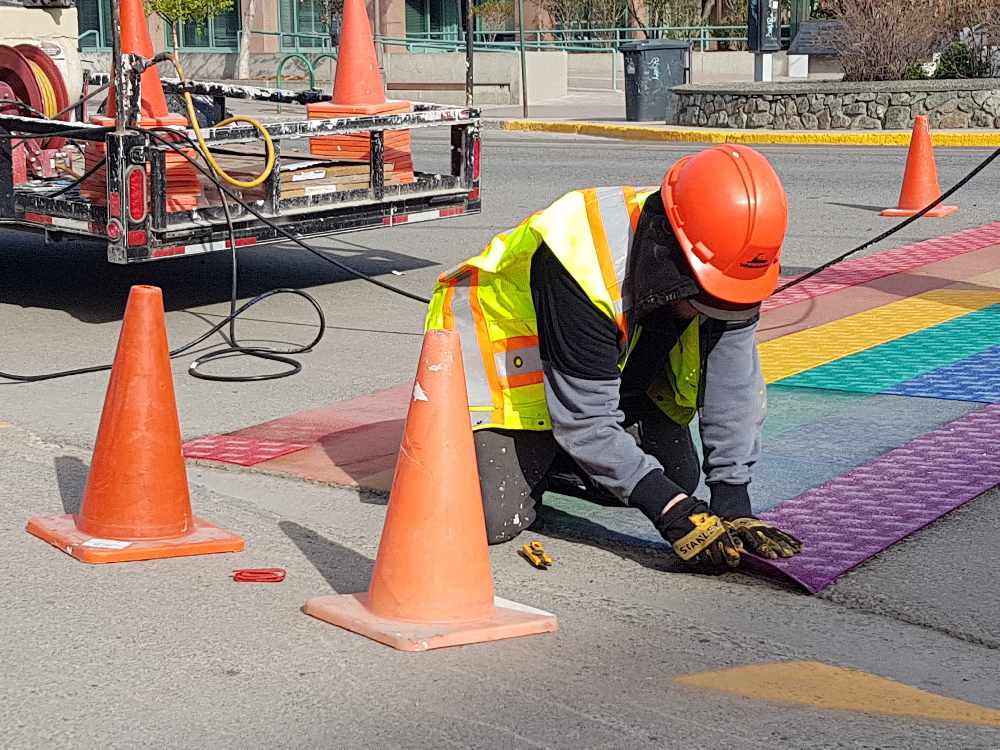 A worker brightens up the existing rainbow crosswalk on Main Street Thursday morning. All four crosswalks at the Third Avenue intersection will be covered by the Pride and Trans Flags. Photo: Tim Kucharuk/CKRW.
The crosswalks at Main Street and Third Avenue will be permanently adorned with the Pride and Trans Flags in the coming days.
The City of Whitehorse is painting permanent Pride and Trans flags on all four crosswalks at Third Avenue and Main Street as part of Pride Month.
Mayor Dan Curtis says crews will spend the next few days touching up the rainbow crosswalk on Main Street, then will put another one across the intersection, with the Trans flag being painted into the adjacent crosswalks on Third Avenue.
"I think it's really important to show our reciprocation, and our unity and acceptance of all citizens of Whitehorse, and (the crosswalk) has been really well received." Curtis said.
Curtis says the crosswalks will be a permanent fixture.
"It means an awful lot to an awful lot of people in our community, and I think we're breaking down those barriers." Curtis told the RUSH.
"I'm very proud to see our community come together to support everyone."
He adds the city was able to track down the proper paint for the Trans Flag from a U.S. supplier, so now both flags can be marked into the crosswalks.
Last year, the Trans Flag eroded from the crosswalk connecting Shoppers Drug Mart, and Yukon Travel after a few months.
Curtis says the Pride and Trans flags will be raised later this month, and he'll also be marching in the upcoming Pride Parade.