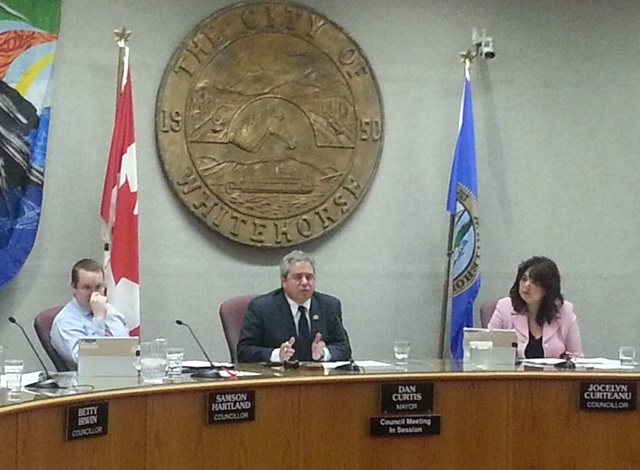 Mayor Dan Curtis presides over a recent council meeting. Photo: Tim Kucharuk/CKRW file.
Mayor Dan Curtis hopes higher levels of government will cover municipal costs of dealing with legalized marijuana.
The mayor of Whitehorse hopes with the incoming legalization of marijuana, there's money to ensure costs incurred by municipalities are covered.
Dan Curtis says along with city staff, he has reviewed the proposed framework released by the government on Monday, and there's some areas municipalities will have to deal with.
"In terms of zoning, in terms of business licenses, in terms of proximity of where the territorial government says these distribution centres will be."
"There are going to be a few things that we're going to have to look as such as the bylaw department for instance."
He says now that they know some of the particulars, they can get to work on things such as business licenses, zoning, and bylaws.
"Right now, we don't allow illegal substance, or even legal substance being consumed in any area of the community."
"There's a no smoking bylaw, so that would go into smoking marijuana as well, and we can't allow drinking in public, so I'm sure we wouldn't allow smoking marijuana in public."
He says overall, he's in favour of legalizing cannabis.