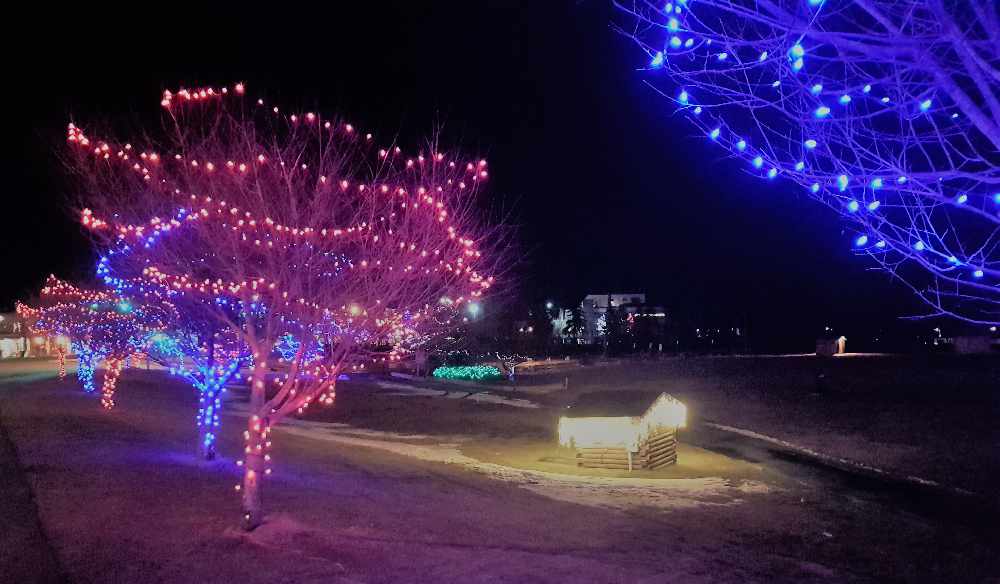 Lights at Rotary Park in Whitehorse. Photo: Tim Kucharuk/CKRW.
Workers with the Parks and Recreation Department have been busy putting up about 20,000 lights around town in time for the dark days of winter and the holiday season.
Whitehorse residents are noticing a lot more holiday lights around town.
The Parks and Recreation department have spent the past six weeks putting up 1,700 strands, consisting of about 20,000 LED lights on city buildings and property.
Parks Supervisor Marc Boulerice says the lights are now along the waterfront, Third Avenue, the Canada Games Centre, City Hall, and Public Safety and Municipal Buildings including Sport Yukon.
He says parks staff look forward to putting up the lights each year.
"The program grew gradually over the last 10 years or so. It was just as a result of the positive feedback that kept coming in." Bourlerice told the RUSH.
"Common comment that we hear from residents is the lights bring happiness to the dark days of the long winter up here."
Boulerice says the final touch is putting lights on the big tree at the end of Main Street this week.
That tree will be lit up during Winterval celebrations on December 8th.
As for costs, he says about $5,000 per year is spent to replace burned-out lights, and the lights use about $11 in power each day.
(The lights stretch down the waterfront past the Kwanlin Dun Cultural Centre, (pictured) to Shipyards Park. Photo: Tim Kucharuk/CKRW)