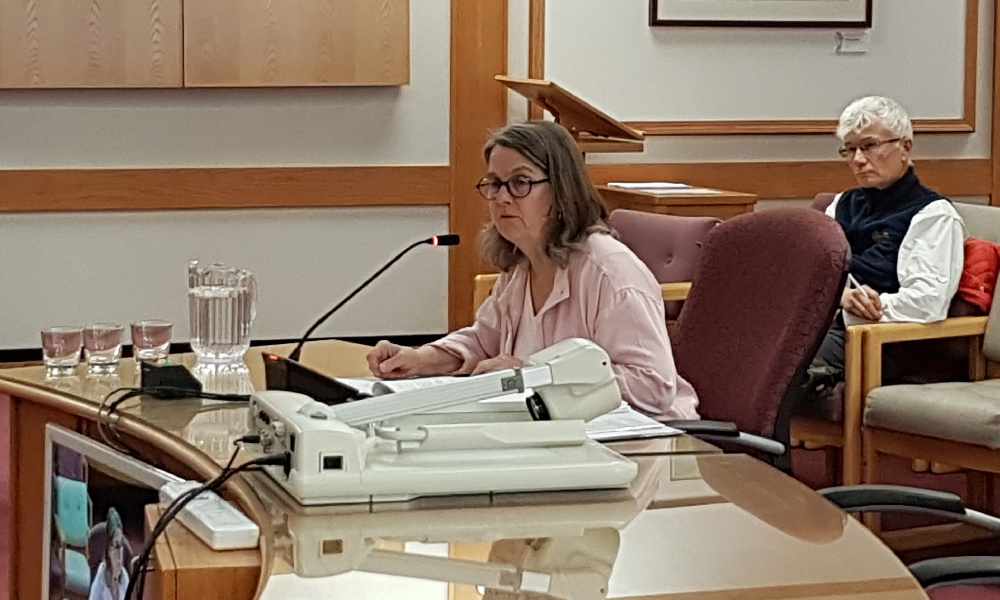 Legislative Services Manager Catherine Constable addresses council Monday night. Photo: Tim Kucharuk/CKRW.
After a delay, a new policy governing meetings between council and administration is now in front of city council.
It seems like the public and media will not be shut out of meetings between Whitehorse city council and city administration.
A new Council and Administration Roundtable policy to replace the current Council and Senior Management meeting policy was presented at Monday's meeting. It calls for the CAR meeting to be for information only, and to be open to the public.
Legislative Services Manager Catherine Constable says the current CASM policy is troublesome.
"The concept that council would provide explicit direction to administration outside of the standing committee or regular council meetings is problematic," Constable told council. "Given the Municipal Act requirements that council acts by passing a bylaw or adopting a resolution."
The original policy presented in July caused some members of council to express concern about closing the meeting to the public. Constable says municipal governance expert George Cuff reviewed the policy and recommended the public be invited to any meeting where the decision-making process is moving forward.
Councillor Laura Cabott had a concern with administration not getting the direction they needed to work on an issue.
"(To) give (administration) enough feedback so they feel confident that what the topics that they're presenting, the ideas are going forward, the direction they are moving in is something council is intrigued with and wants them to do."
The new policy will come back to council for a vote next week.