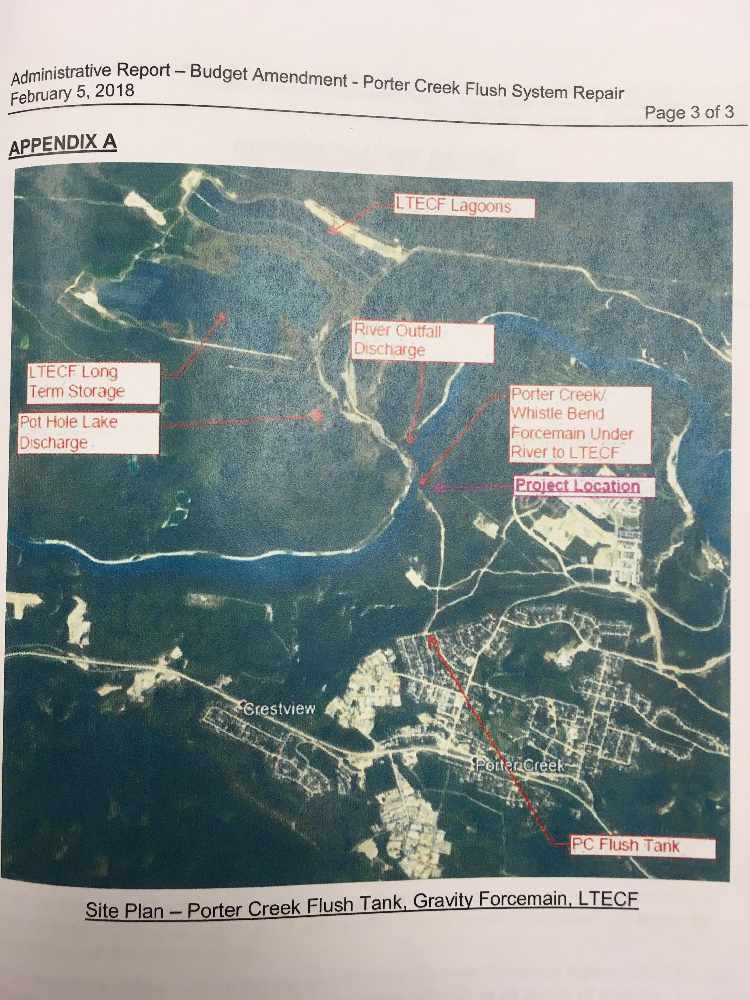 A map outlining the location of a leak near the Porter Creek/ Whistle Bend Forcemain (Oshea Jephson/CKRW)
The city of Whitehorse says repairs to the Porter Creek Flush Tank System could cost city $850,000.
The city of Whitehorse says a sewage leak near the Yukon river confirmed last Summer now requires urgent attention.
Director of Infrastructure and Operations Peter O'Blenes spoke at Monday's city council meeting and says the leak is located in a chamber which pumps sewage across the river to the treatment facility.
History on the site, presented to council, cites the leak as a 'bona-fide emergency due to risks to public health, city property, and private property.'
According to city officials, the leak was first reported to city staff in February of last year and O'Blenes says it was found during a regular inspection.
"In this case, they're checking the site, opening it up and making sure that everything is ok and that there's no damage or anything else to it and in this particular case, they saw the sinkhole right beside the chamber itself, a big concrete chamber."
The city switched to its backup pipe four days later and a smoke test done over the Summer confirmed the leak but O'Blenes says there are no environmental concerns.
"We have not seen any evidence of an environmental breach here into the Yukon river. We're fairly confident that there wasn't a lot that has leaked out however we won't know until we dig up and figure out which way that plume has gone in."
Once the leak was confirmed, an emergency funding request was brought forward to the city for engineering work and the repair work is now estimated to cost $850,000, which will be pulled from the Water and Sewer Reserve and O'Blenes hopes the work can be completed before a fall freeze-up.
Council votes on the issue next week.