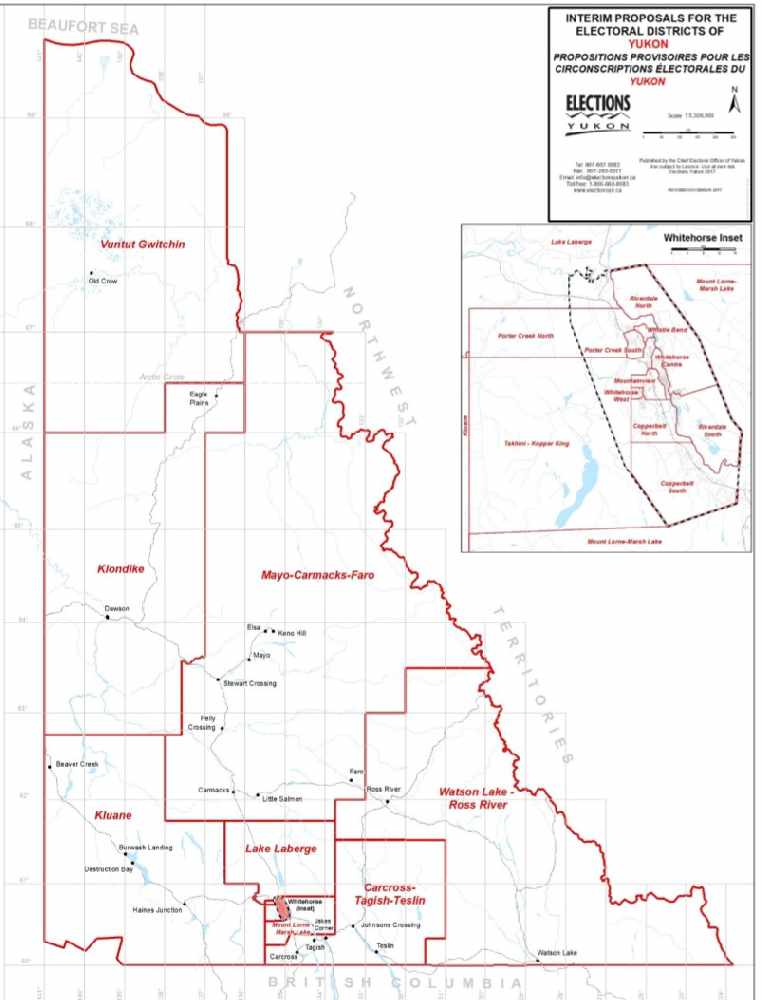 The proposed changes outlined in an interim report by the Electoral Districts Boundaries Commission. Map: Elections Yukon.
The Electoral District Boundaries Commission is making the changes public, and now wants input from Yukoners.
Nine changes--some major and others minor--are part of an interim report issued by Yukon's Electoral Boundaries Commission.
The report tabled in the legislature Monday afternoon changes the boundaries and names of districts mostly in southern Yukon, such as putting Watson Lake and Ross River together, as well as Carcross-Tagish-Teslin as one riding and Mount Lorne-Marsh Lake in another.
Chief Electoral Officer Lori McKee, who serves on the commission, says one other big change is the creation of a Whistle Bend riding in Whitehorse, which replaces Porter Creek Centre.
"(The district) was designed to accommodate past development in the Porter Creek area, and of course, future growth in the Whistle Bend community." McKee told the RUSH.
"The proposed electoral district of Whistle Bend itself, is projected to exceed a population 2,100 by 2026, the second election for which these boundaries would be in place."
The report also keeps the number of ridings at 19.
"The commission concluded that maintaining 19 electoral districts would achieve the goal of effective representation." said McKee.
McKee says those who want to make a presentation to the commission, should contact their office by January 11th, with public meetings scheduled as needed in February and March.
A final report to the legislature is due by April 20th.