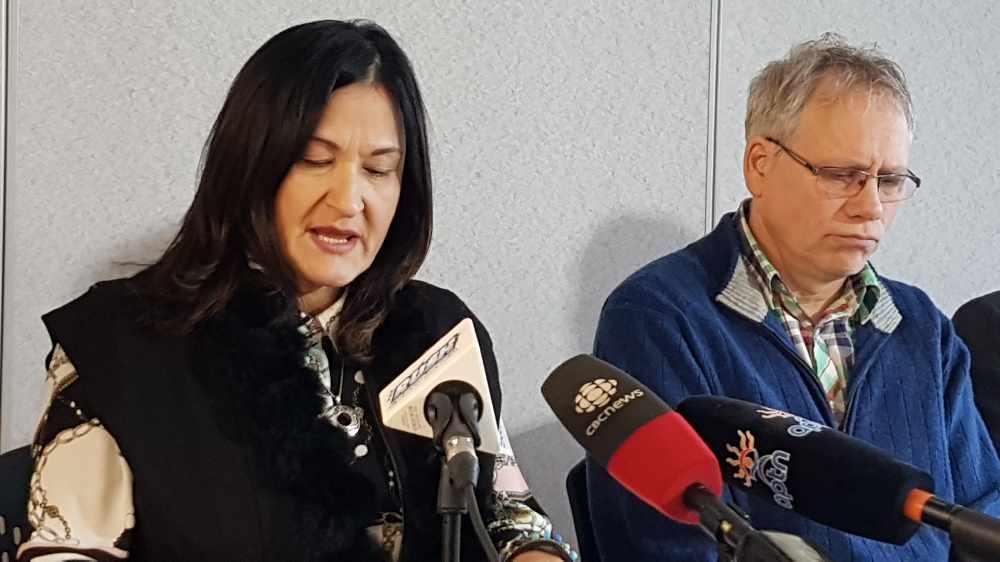 Health and Social Services Minister Pauline Frost addresses media Monday morning alongside Community Services Minister John Streicker. Photo: Tim Kucharuk/CKRW.
After rolling out some new initiatives over the summer to deal with the influx of clients, the Yukon Government is overhauling the service model by having permanent housing units and specialized on-site staff.
Programming and operational changes are being implemented at the Whitehorse Emergency Shelter.
Monday morning, the Yukon Government announced the shelter will be shifted to a Safe at Home facility with 20 permanent housing units for those who are chronically homeless and have complex care and support needs.
Health and Social Services Minister Pauline Frost says the dynamic of the shelter changed when YG took over in late January.
"As our experience operating the shelter and the facility over the past several months has shown, there is a real need for these services in our community," Frost said. "We need those services to be here in Whitehorse, in downtown Whitehorse, where we can most directly serve need the services it provides."
(Listen: Monday's press conference outlining the changes.)
Safe at Home Implementation Manager Kate Mechan says the shelter situation shows the depth of need in the community.
"So Safe at Home is very committed to making sure the decisions we are making moving forward, that the resources and programming as those needs arise are based on what the evidence is telling us," Mechan said. "Not what we think is the right decision, or based on who we think needs service most."
The shelter will also have an EMS Paramedic on site 10 hours a day, seven days a week, mental health and social workers, and increased programming and support services.
Community Services Minister John Streicker says EMS has responded to over 700 calls from the shelter area since January. EMS says having a paramedic on hand will not affect overall staffing.
As for safety concerns, a Community Safety Planning process will commence, and a Community Liaison Officer position will run as a pilot program.
Whitehorse RCMP Detachment Commander Keith MacKinnon said it's not a policing problem per se, but a co-operative approach is needed.
He says having officers at the shelter interacting with partners and helping clients, it helps build relationships, as opposed to arresting people. He noted the aim is to get people the help they need.
A paramedic will be stationed at the Shelter 10 hrs a day, 7 days a week. Two mental health worker positions will be added, and a social and outreach worker will also be on hand to support clients.

— Tim Kucharuk (@TimKucharuk) October 28, 2019