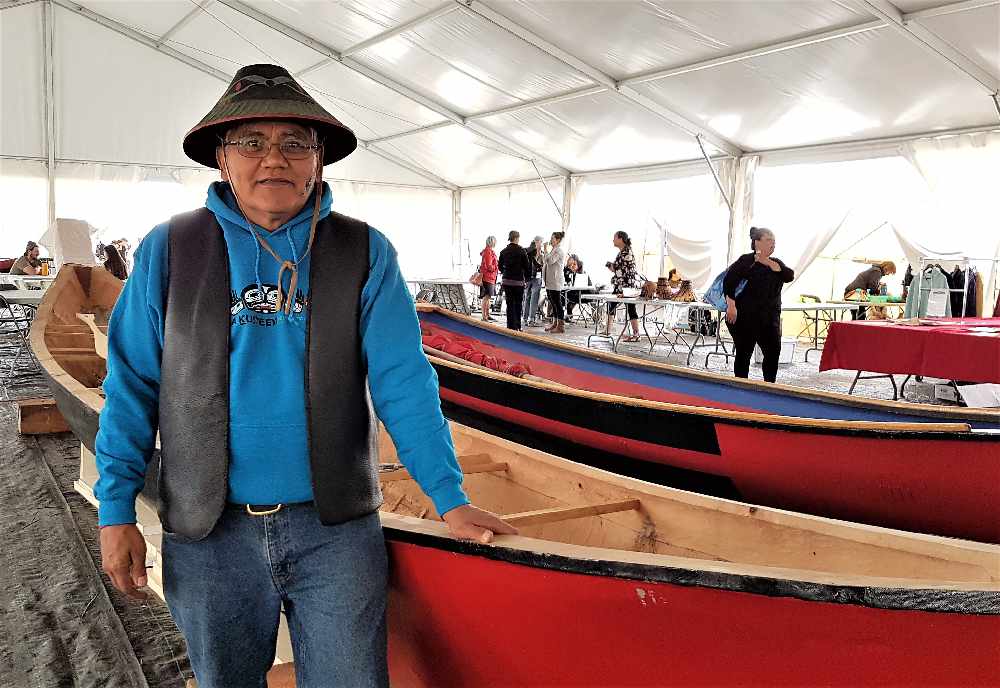 Master Carver Wayne Price stands next to the canoe on Friday afternoon. Photo: Tim Kucharuk/CKRW.
Master Carver Wayne Price and his team have spent the past two months turning a log hundreds of years old into a dugout canoe.
A 30-foot western red cedar tree from southeast Alaska is in the final stages of being transformed into a dugout canoe in Carcross.
Haines, Alaska Master Carver Wayne Price and his team of volunteers have spent the past two months carving the 450-year-old log into a seaworthy traditional mode of transportation for First Nations.
"The outside has been sealed and painted," Price told the RUSH. "We're doing the repair of the cracks that do happen in a dugout. On the inside, we're getting ready to seal it all up, and put in the seats and the sails."
While the canoe was not ready for this past weekend's Haa Kusteeyi celebration, Price says that was not the goal, and the canoe will be complete sometime this week.
"There will be more journeys and more celebrations," Price said. "This will be ready and available for all of it for many years to come. There's no remorse whatsoever. There's only deep pride and deep gratitude for my crew who stood by me."
He says he did use his personal dugout canoe to join the paddlers from Atlin on their journey to Carcross to open the celebration on Friday.
(The before and after: the log in late May, and the close to finished product beside Price's personal dugout canoe. Photos: Tim Kucharuk/CKRW.)