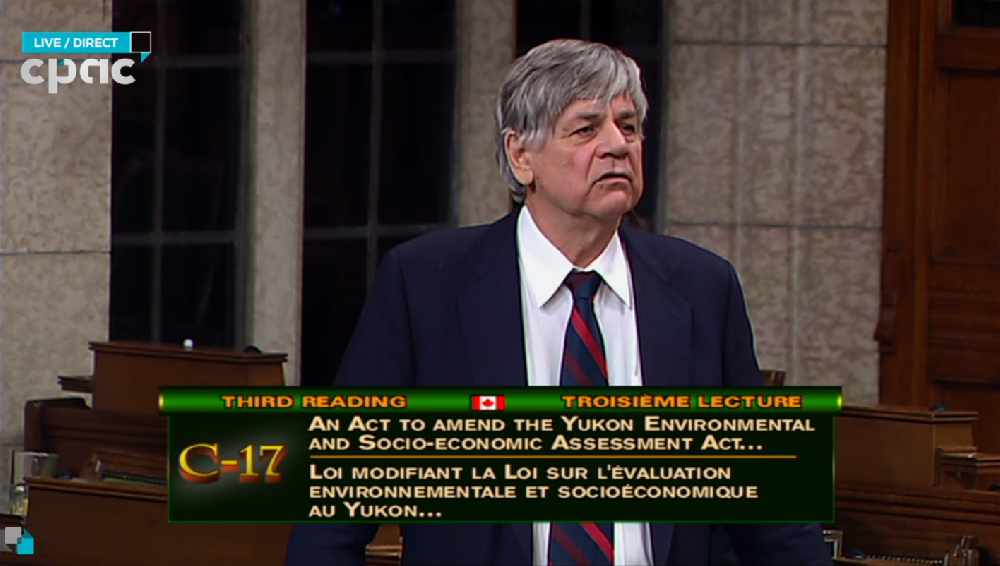 Yukon MP Larry Bagnell speaking on behalf of C-17 (CPAC)
A bill that removes controversial provisions in Yukon's environmental regime has moved past third reading.
A bill pulling contentious amendments to the Yukon Environmental and Socio-economic Assessment Act is heading for the Senate in Ottawa.
Yukon MP Larry Bagnell says Bill C-17 passed third reading in the House of Commons this Thursday after debate collapsed, and without the need for a recorded vote.
"After a long haul in the house, we can probably get on with things and move towards certainty in the environmental assessment. You know, new mines, new developers. We'll have an environmental assessment place that they can be certain of back in place."
As for some concerns about replacing language pulled from YESAA expressed by the mining industry, Bagnell says once the bill becomes law, Northern Affairs will meet with the Yukon government, First Nations, miners, and others to see what needs to be improved.
"You know the miners and the First Nations have already talked early in this legislation about doing that so that should be positive."
The amendments objected to by First Nations in Bill S-6 included assessment timelines, delegation of federal powers and binding direction, and project exemptions without reassessment.