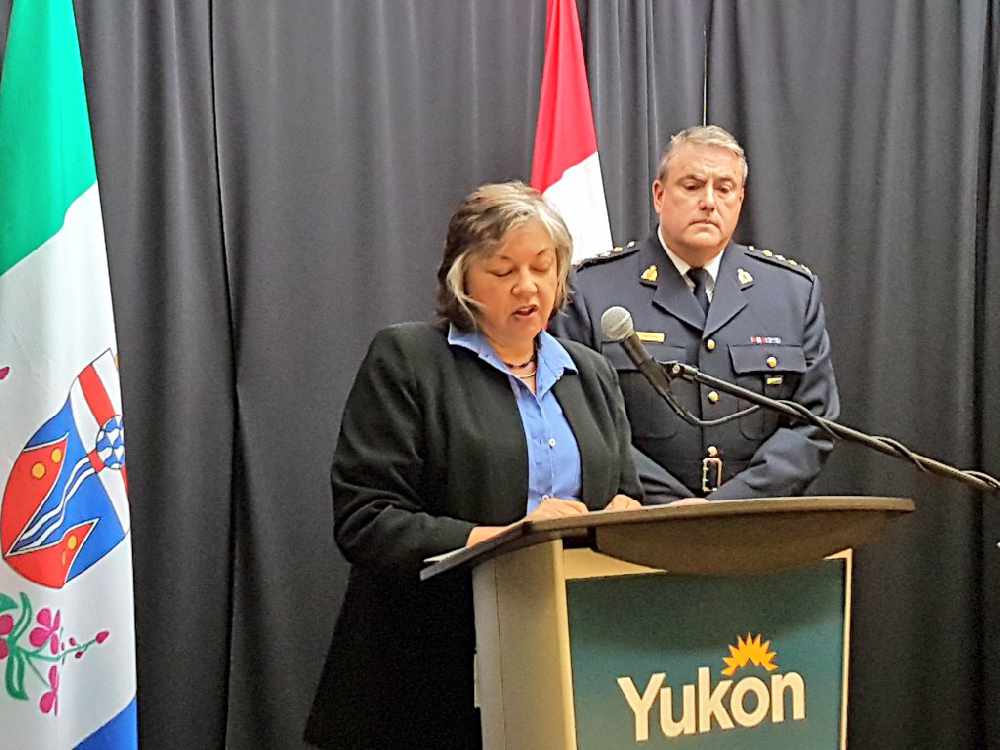 Minister Tracy-Anne McPhee is flanked by Yukon RCMP Commanding Officer Chief Superintendent Scott Sheppard at Tuesday's media briefing. Photo: Tim Kucharuk/CKRW.
The Yukon government says they are embarking on a new capital and operating plan for the force in the territory, and are announcing three initiatives.
The Yukon government is announcing a capital and operating plan with Yukon RCMP.
Some of the first changes include turning the Ross River detachment into a policing hub to include Faro, and transferring an additional officer from that area to serve the Burwash Landing and Destruction Bay corridor.
Justice Minister Tracy-Anne McPhee says a satellite office will serve Faro, with officers still in both communities.
"Both Ross River and Faro can continue to expected the same levels of dedicated policing and community engagement." McPhee said.
"This initiative is already underway."
Yukon RCMP Commanding Officer Chief Superintendent Scott Sheppard says this is a model which is used in other parts of the country.
He says the plan also calls for the replacement of the 37-year-old detachment in Carcross.
"The consultation with the community has actually just begun." Sheppard said.
"There's going to be a number of interests, a number of viewpoints and people that will want to be heard on this issue in terms of location, size, design, appearance. That's very much subject to community input."
The plan sets priorities through 2022.