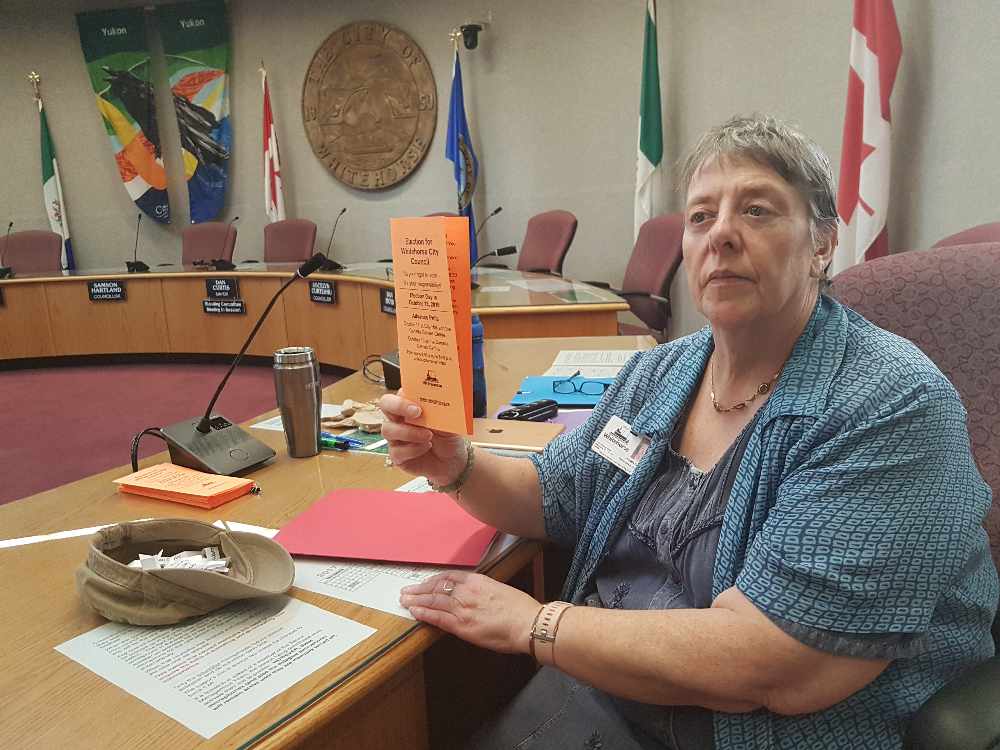 Whitehorse returning officer Norma Felker in council chambers Thursday afternoon. Felker says election information will be mailed to all Whitehorse households next week. Photo: Tim Kucharuk/CKRW.
Deadline for nominations has come and gone with mayor and council elections set in most communities, while others are acclaimed.
There's five candidates running for mayor, and 20 running for six council positions in Whitehorse.
Nominations for the municipal election set for October 18th closed across the territory at noon Thursday.
Whitehorse returning officer Norma Felker conducted a draw in council chambers shortly after to determine how the candidates will appear on the ballot.
"It's an unofficial list of candidates until noon on Monday, October 1st. All candidates have 96 hours in which they may withdraw." Felker said.
Kelly Suits, Wilf Carter, incumbent Dan Curtis, Colin LaForme, and Rick Karp are on the ballot for mayor in Whitehorse.
Felker says about 20,200 people are on the voters list.
Below is the list of candidates in Whitehorse: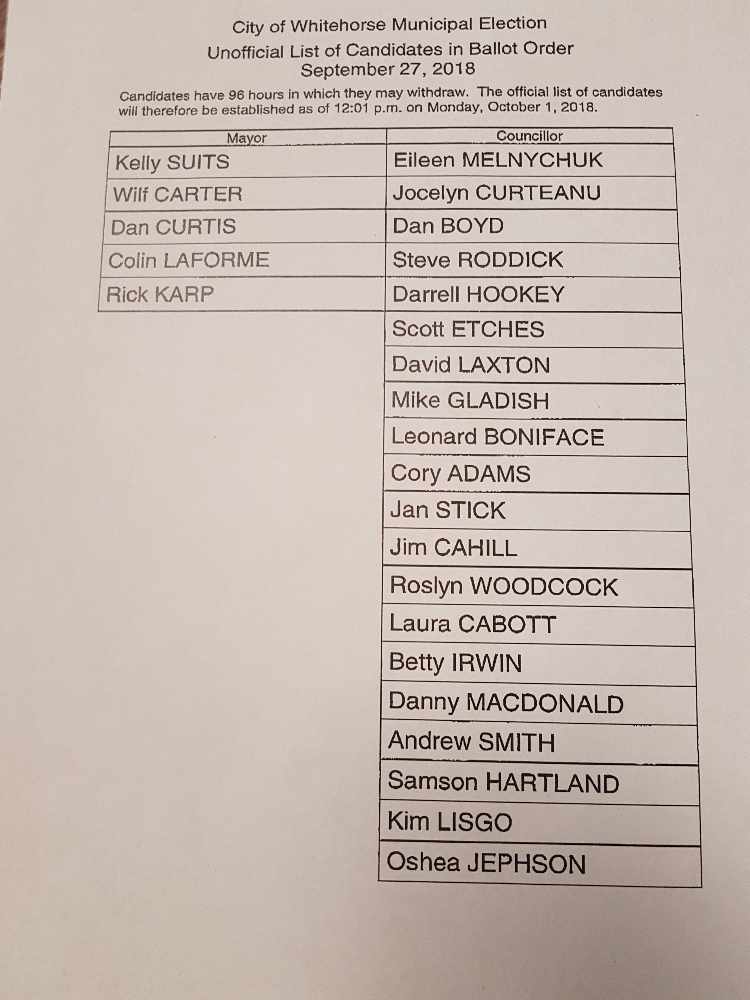 In the communities, there were quite a few acclamations.
Wayne Potoroka will be acclaimed as mayor in Dawson City, along with councillors Stephen Johnson, Molly Shore, Natasha Ayoub, and Bill Kendrick.
Same goes in Mayo, as Scott Bolton is back for another term, and he'll be joined by Blair Andre, Joann Aird, Carol Knight, and Trevor Ellis.
In Haines Junction, Thomas Eckervogt is acclaimed as mayor, with six people seeking four council seats.
Watson Lake will see an election for mayor and council, as incumbent Justin Brown is being challenged by Cheryl O'Brien, while 11 people are seeking four council seats.
Incumbent Jack Bowers is being challenged for mayor in Faro by Leonard Faber, with five people seeking four council seats.
In Carmacks, Bob Mayer, Kevin Unterschute, and Lee Bodie are running for mayor, while seven people are seeking four councillor seats.
In Teslin, Jean-Michel Harvey, and Gord Curran are vying to replace longtime mayor Clara Jules, with six people seeking four council positions.
Below is the full list of those running in communities who did not have acclaimed candidates. One mayor and four councillors to be elected.
Watson Lake: Mayor: Justin Brown, Cheryl O'Brien. Council: Christopher Irvin, Stacy Bauer, Brenda Leach, Lauren Hanchar, Michael Lexow, Rick Harder, Colleen Craft, Thomas Slager, Andy Shannon, Anais Durante, Erin Labonte.
Faro: Mayor: Jack Bowers, Leonard Faber. Council: Tina Freake, Pat McCracken, Sarah Piercey, Lisa Snyder, Cheryl Stubbs.
Teslin: Mayor: Jean- Michel Harvey, Gord Curran. Council: Denise Johnston, Margaret Douville, Clara Jules, Lance Saligo, Trevor Sallis, Juanita Kremer.
Haines Junction: Mayor: Thomas Eckervogt (acclaimed) Council: John Farynowski, Kari Johnston, Mark Nassiopoulos, Elodie Dulac, Susan Smith, Courtney Quinn.
Carmacks: Mayor: Bob Mayer, Kevin Unterschute, Lee Bodie. Council: George Skookum, Joseph O'Brien, Morgan Alexander, Russel Twin, Tara Wheeler, Helena Belanger, Lorraine Graham.